FIFA Online 4 Game Review
Could you imagine that the modern version of the soccer simulator FIFA can be played absolutely for free? It happened thanks to the release in Russia of FIFA Online 4 entirely in Russian, on personal computers and in conditionally free format. We tell you more about the game, how it differs from the flagship series and how interesting it is.
About accessibility
Initially, conditionally free version of the main soccer simulator focused on the Asian markets, where FIFA Online 4 appeared 3 years ago. Naturally, many of our compatriots wanted to try it, but could not do it properly - still, the game was on foreign servers, so the connection was, to put it mildly, not ideal. And just recently it first came out fully localized and on native servers. At the same time it looks spectacular, does not slow down and does not freeze.

The reason is that FIFA Online 4 is developed on a pretty modern Frostbite 3 engine. That`s why the graphics here is pretty, bright, spectacular, a lot of impressive clips and scenes on the engine, where Leo Messi or Cristiano Ronaldo celebrating the scored goals, really looks like Messi and Ronaldo. And most importantly, with such graphics we have quite democratic system requirements, which is especially important for competitive MMO, where all gamers must play quickly and comfortably: without crashes, brakes and sudden connection break during an important penalty shot.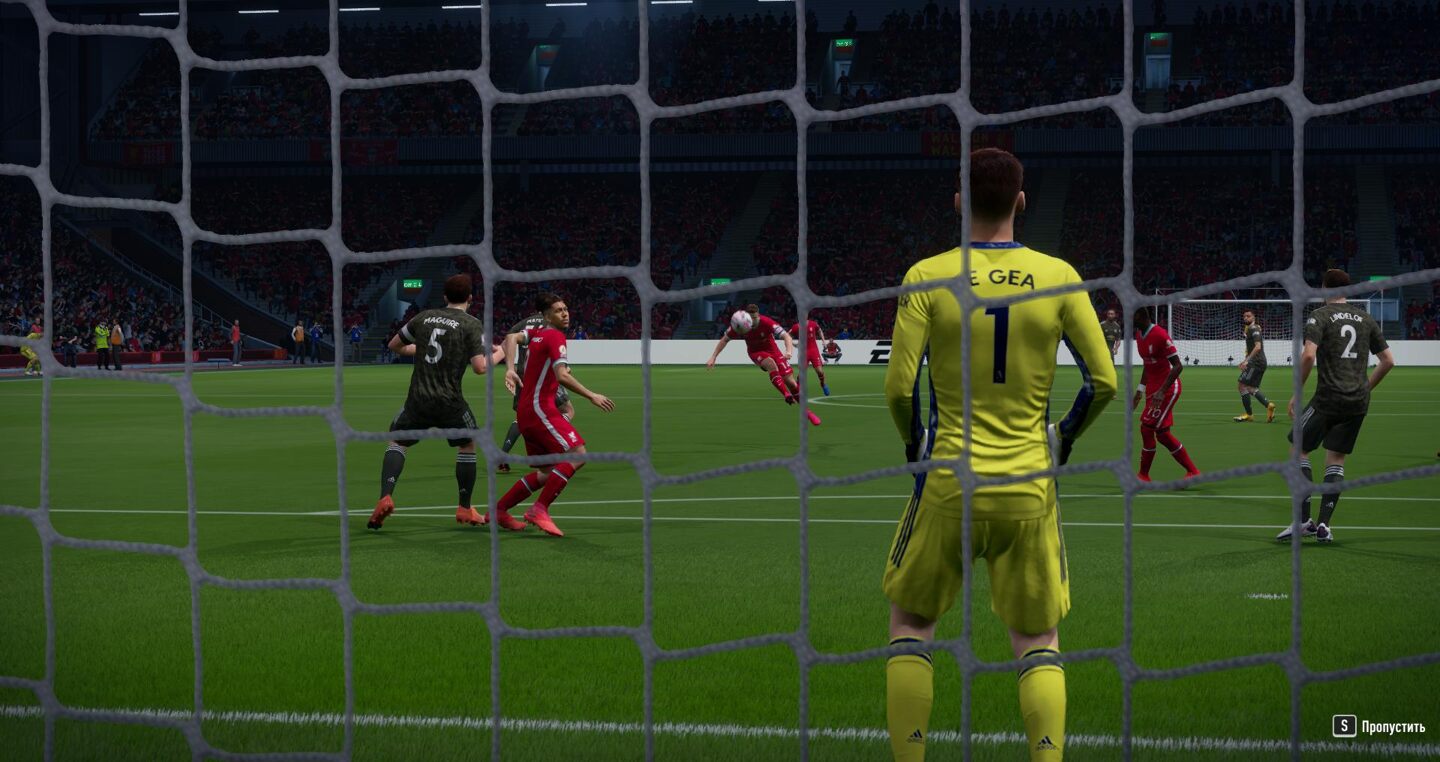 Apart from that, FIFA Online 4 is free to play, which is the most important part of its accessibility. Naturally, as in any freetoplay MMO, you can spend your real money here as well. There is a "VIP status" and a built-in store, where you buy sets with more or less cool players, as well as useful consumables like keys to open these very sets or game simulation coupons for your hard-earned rubles.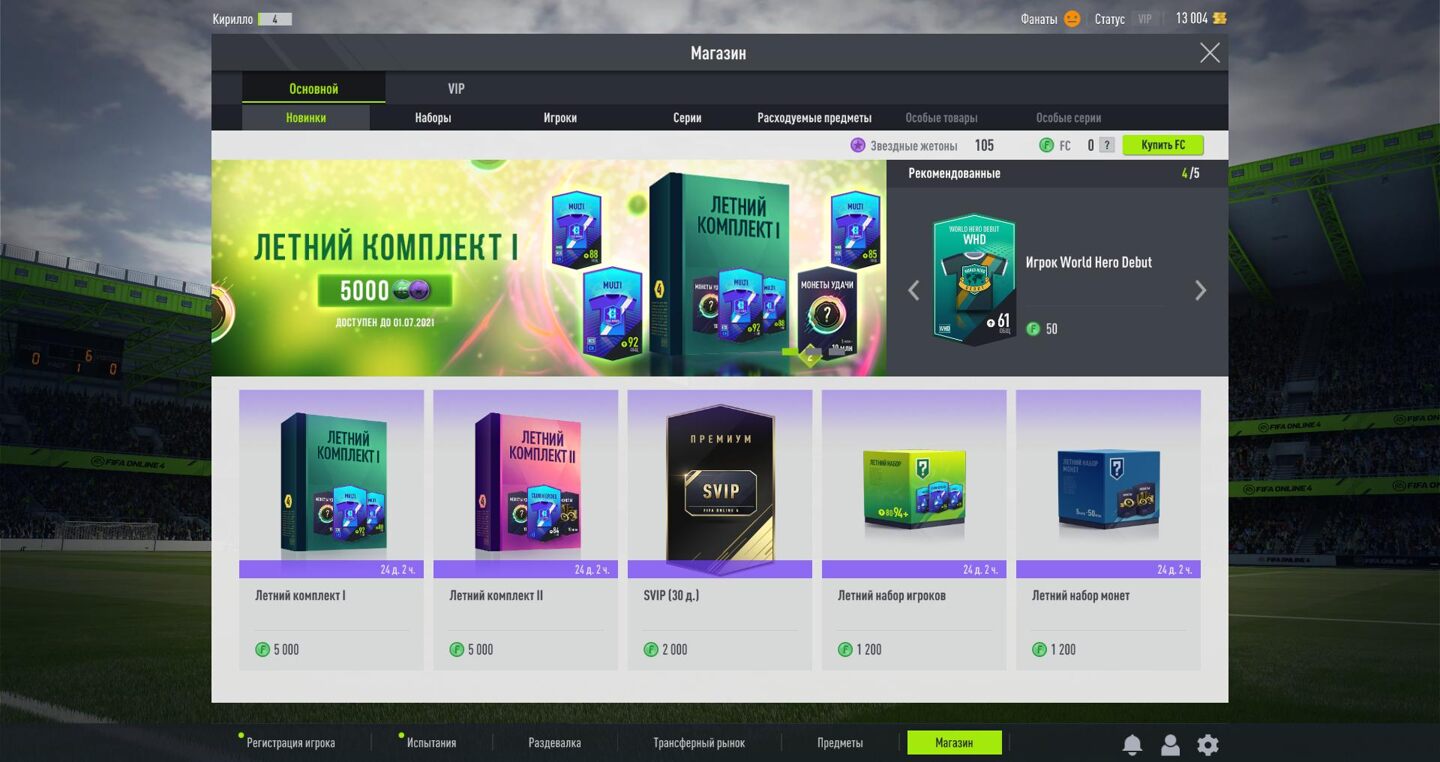 This is quite normal for an MMO, and a lot of things can be bought for in-game currency, including the so-called "Star Tokens". We earn it just for the fact that we go to FIFA Online 4 regularly, participate in games and along the way perform numerous tests and open achievements. The challenges, by the way, are numerous - from simple ones ("play 6 games", "score 2 goals per game") to more interesting ones like "serve 35 corners", "make the first transfer purchase" and so on.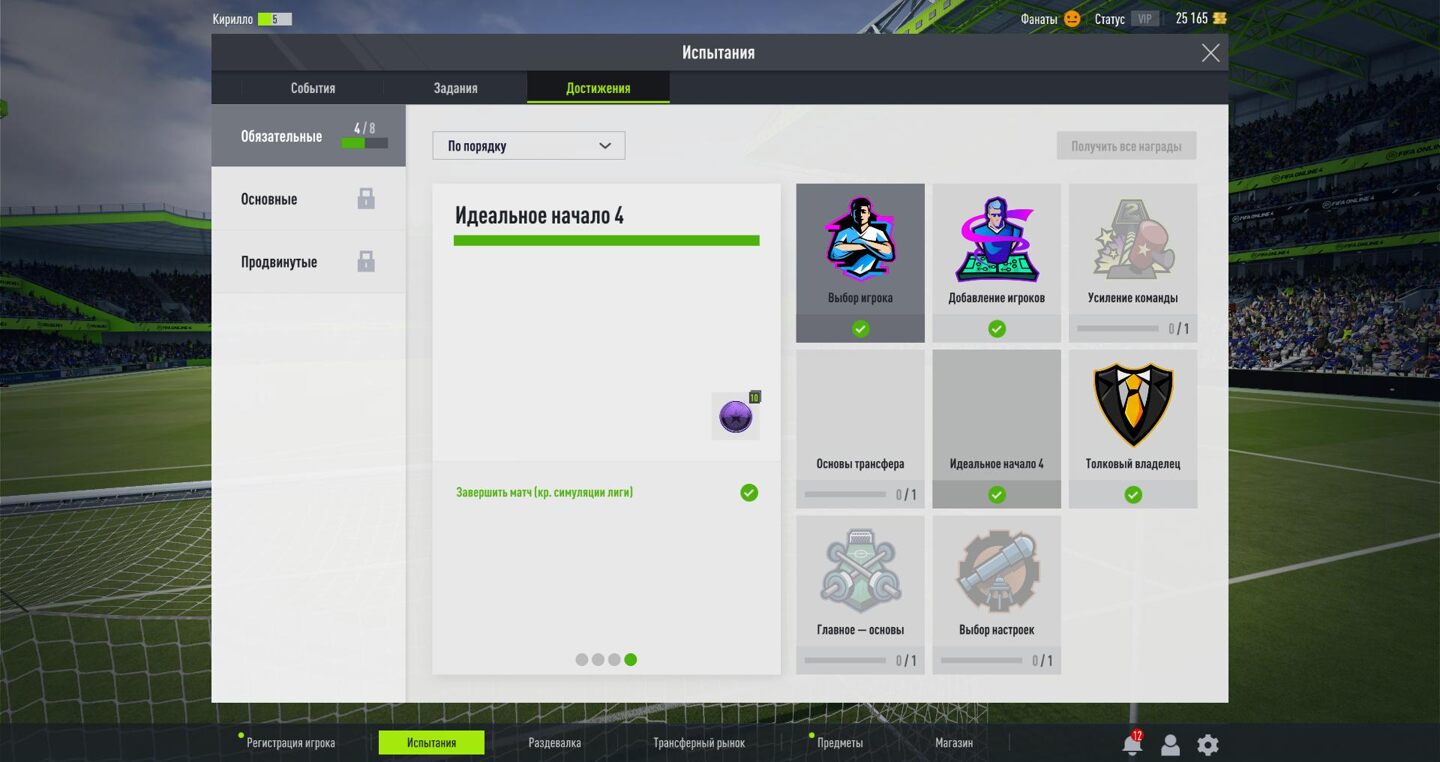 About game modes
However, we all know that accessibility and free is not synonymous with fun. Understanding this, the authors took as a basis the most popular mode from the flagship series. We are talking, of course, about Ultimate Team, optimized and expanded. Its essence is still the same - the possibility to recruit to your team any players, either from the past, more or less distant, or from the present. Having chosen his favorite Liverpool, the author of these lines almost in the first game faced a team where Maradona, Paolo Maldini and Lev Yashin played on the same field.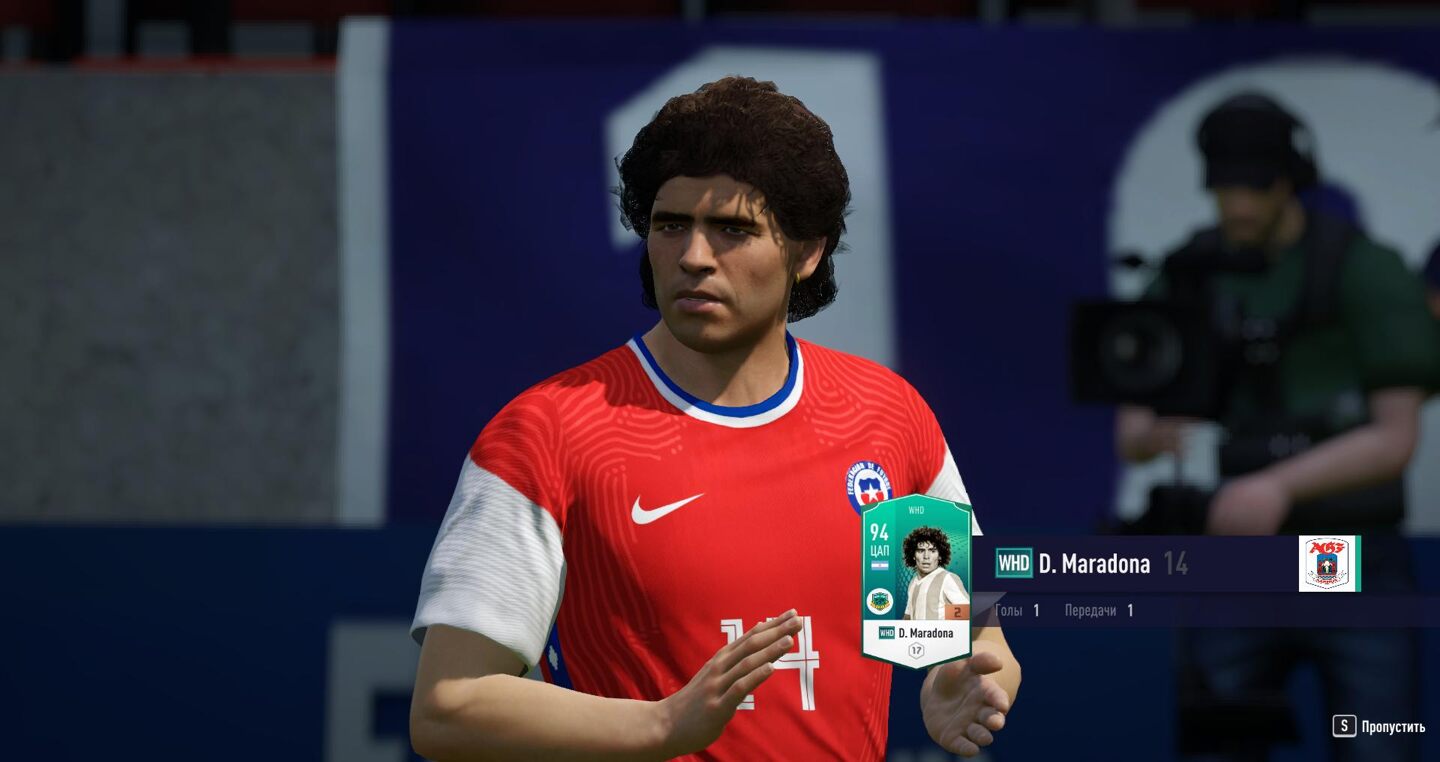 We get new players for our "dream team" from sets by buying them, winning them, or buying them on the transfer market. Especially since the latter is conveniently implemented - we immediately determine the value of a player and when an offer suitable for the given conditions appears, the deal is done automatically. And all this is accompanied, again, by a convenient interface.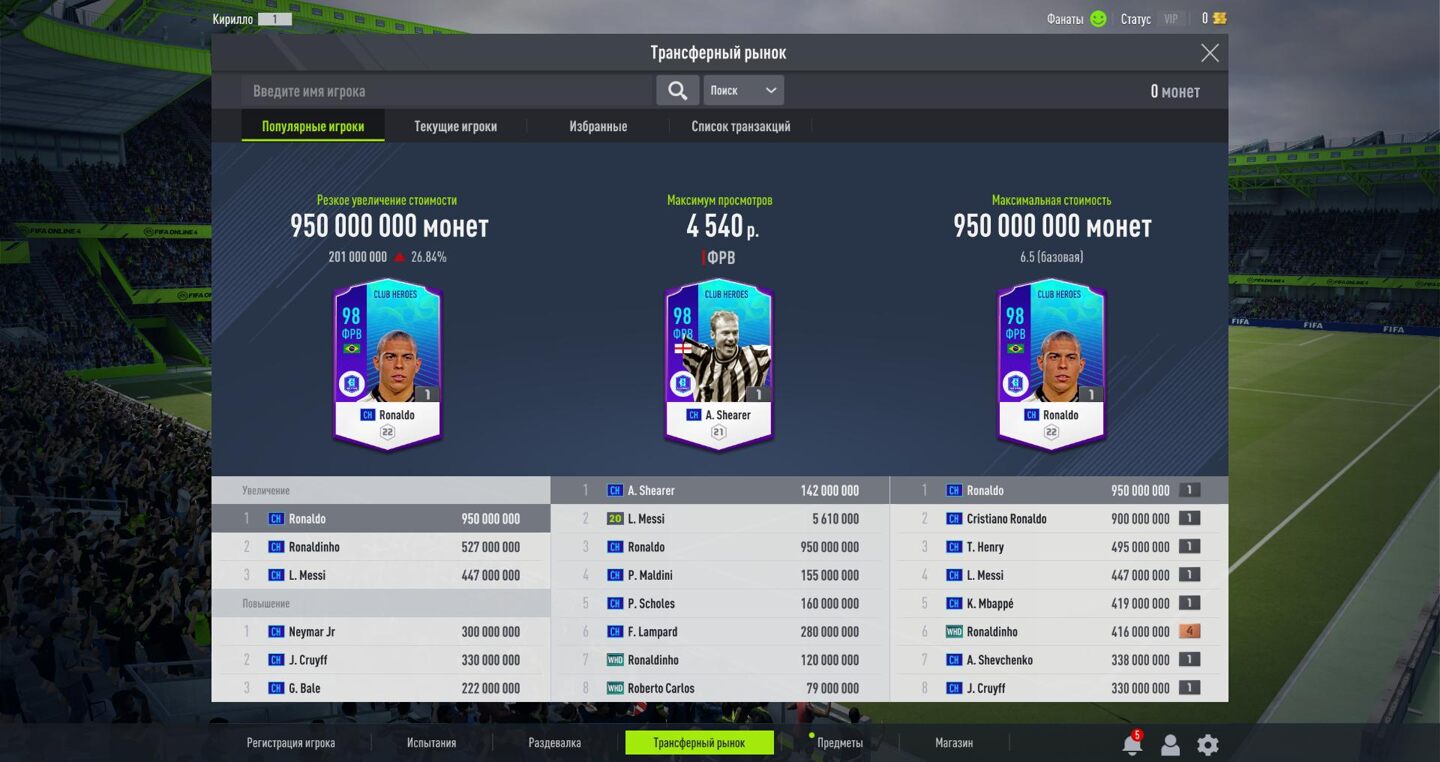 However, the first thing you do is to choose your favorite of the real-life teams, on the basis of which you can then assemble your own Dream Team. And then you can play in different modes. Globally, they are divided into two components. "Club Team" - focused mainly on games against artificial intelligence, where you can try to win the game, with the already mentioned, "Liverpool" in the English Premier League. Although, here, too, there is a co-op with a friend. But the mode "Core Team" is already more focused on the competition with other players. There are no friendly matches - only ranked matches in 1x1 format.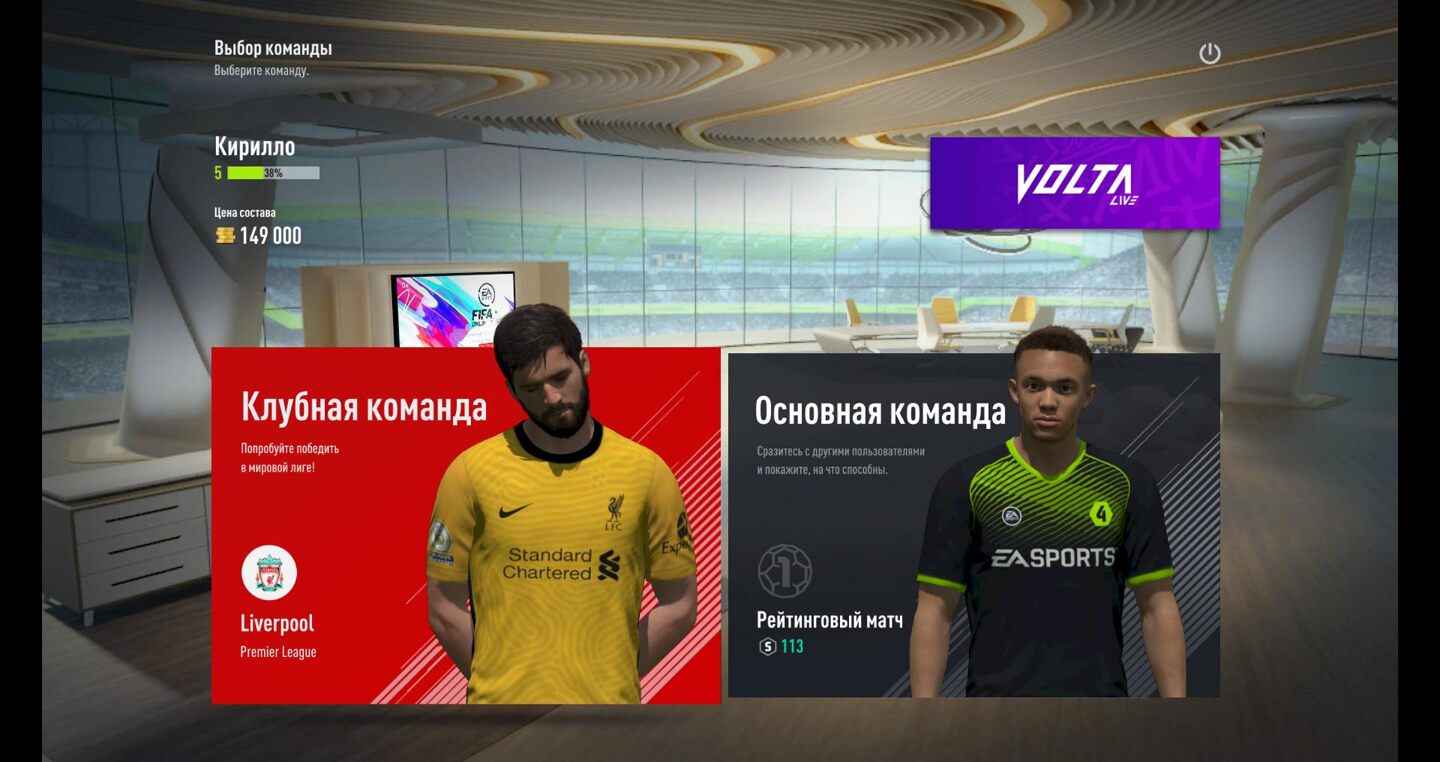 In the cooperative "Special Match", where we play with friends, only the classic main mode is available now in Russia, but in the future there will be others, where those who score first, who shoot with their head or foot better or are particularly skilled at long-range shots will win. There will even be "Survival", where, after a conceded goal, someone other than the goalkeeper must leave the field. Up to 4 players from each side may leave early for the locker room. A variation of the "Battle Royale", but about soccer.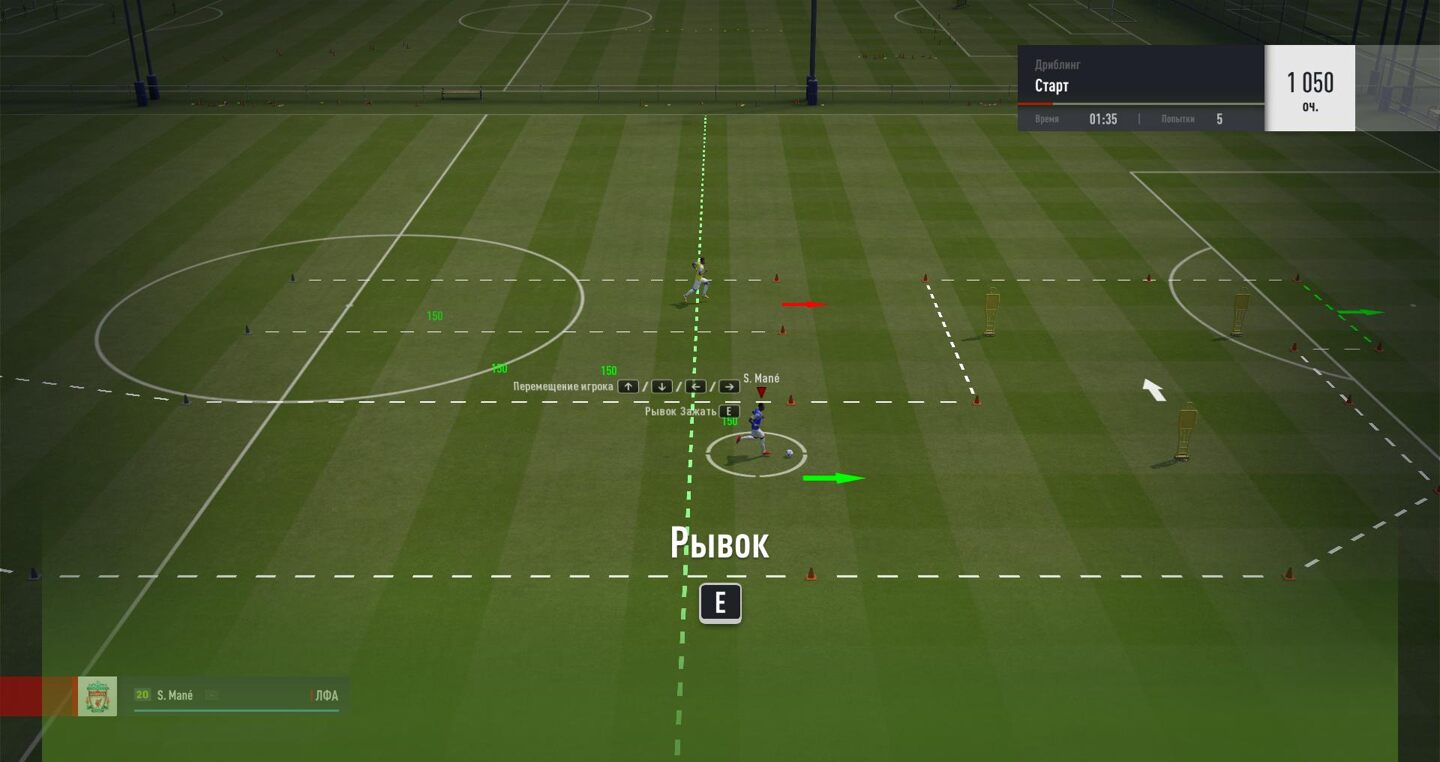 We have not forgotten about the coaching activities. Here you can make substitutions, determine the tactics, flexibly adjust how the team will play: pressing, counterattacking, long pass, or you will think up and keep some of your own, unique tactical scheme. Also, we ourselves determine the speed of passing, intensity of dribbling, work out the personal characteristics of the player - how often he will join the attack, whether Ronaldo, for instance, needs to help actively in defense or it is better to always stay in front and wait for his chance. Up to the fact that you yourself can adjust the scheme of the game with two forwards, adjusting even the distance between these forwards.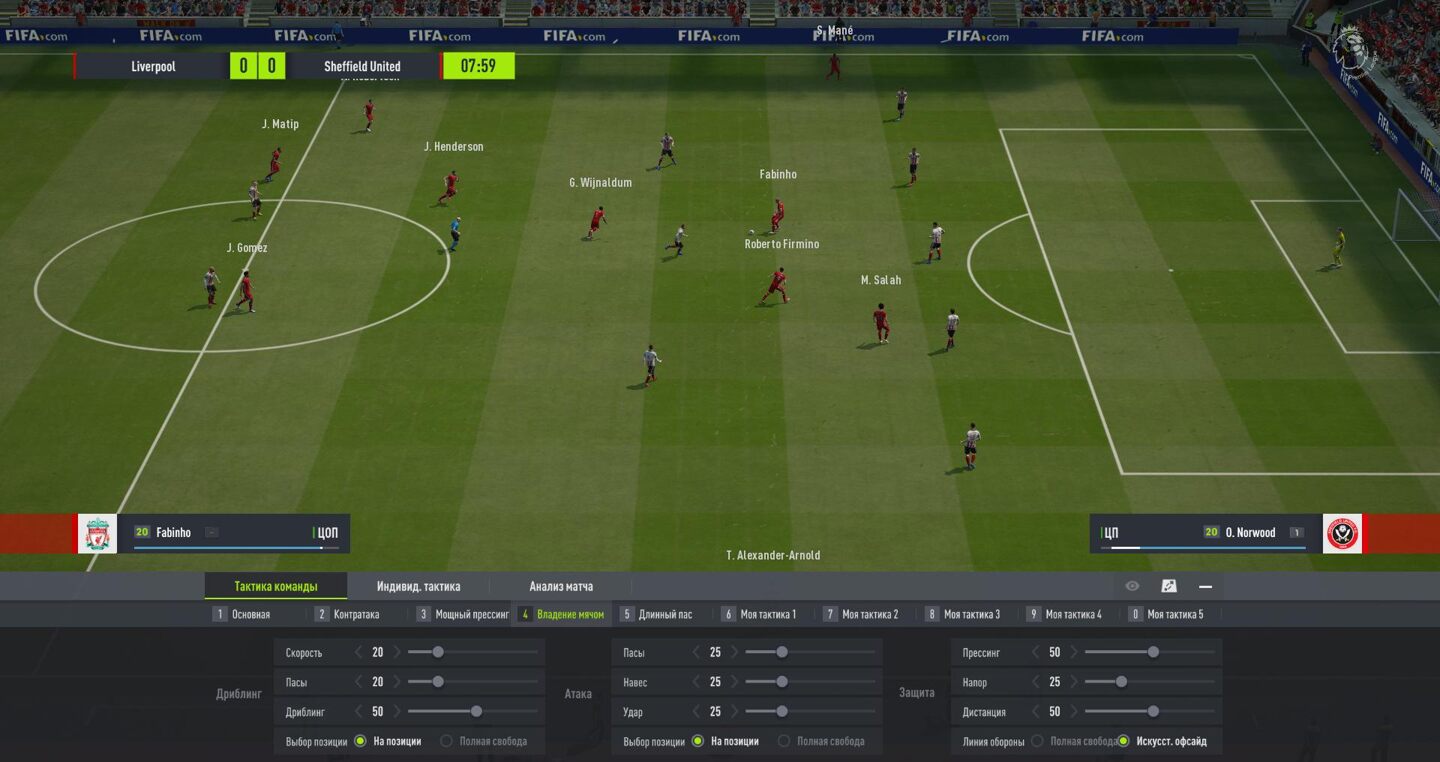 All this is available in the modes "Competition of Coaches" with the main team and "League Match" with the club, where you have to win the national championship, competing with artificial intelligence. And this mode turned out to be quite exciting.

We, recall, we chose Liverpool and tried to lead him to the championship in the English Premier League. And, you could at your choice personally manage charges, "simulate" games or try on the role of a coach, adjusting to the current situation their tactics, general and individual, changing players who were injured or tired, and so on. And we could very well replace, for example, Sadio Mane with Kristana Ronaldo, Salah with Messi or Henderson with Neymar - our "dream team" allowed us to do this.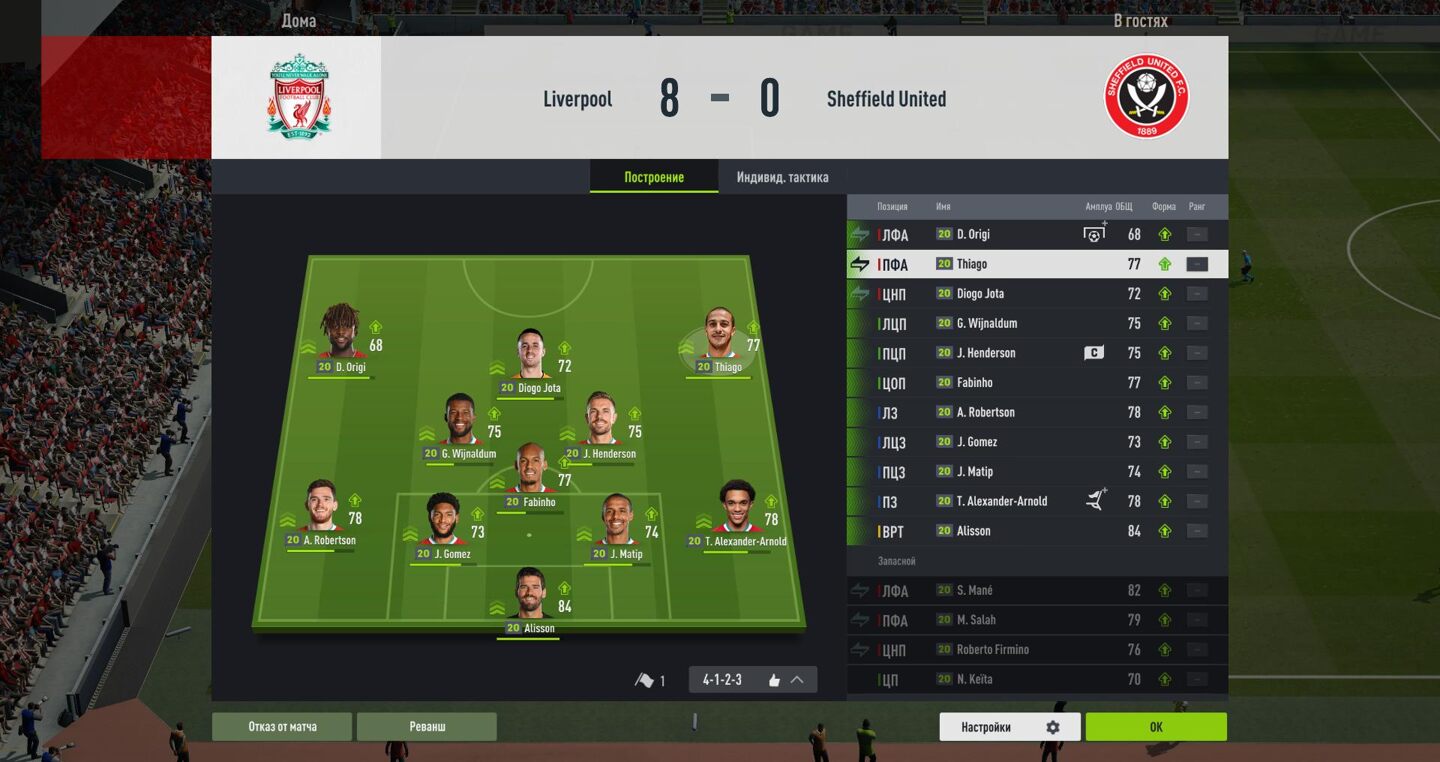 In addition, for special "coach points" (OT) we recruit and improve fitness coaches and assign them to work with specific players - the latter may end up with useful skills. It is also important to study the statistics of your club and competitors to understand how to play against them. As for the money to buy better players, among other things, may bring stadium - the more roomy it is, the more revenue from tickets. The initial available standard stadium, and after you reach a certain level, you can buy and other, more spacious, as well as improve them. At the same time, the mood of the fans affects the attendance - the better you play, the higher it is, of course, and the more active the fans go to the game.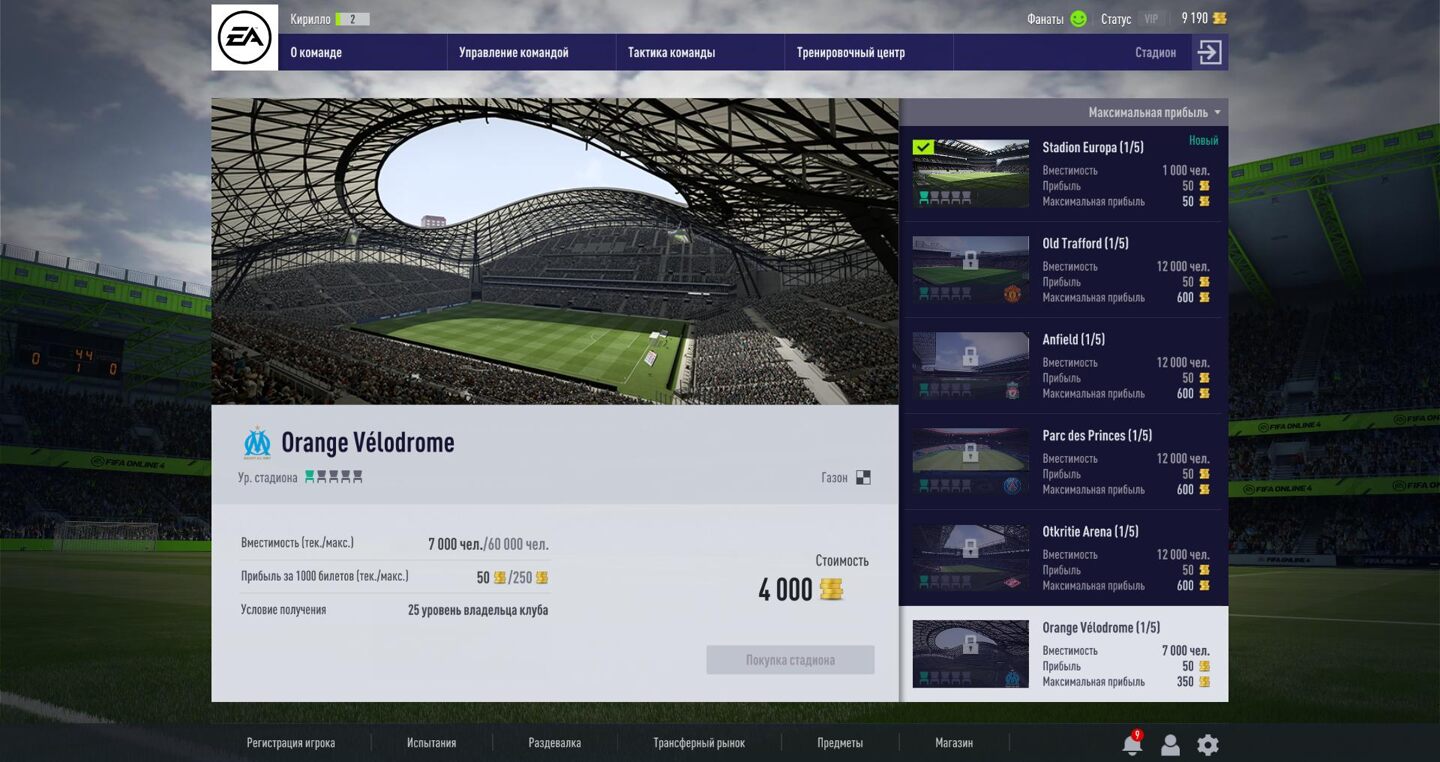 Finally, in FIFA Online 4 there is also a Volta Live mode, where you can play soccer on street courts in 5x5 format. Moreover, this is a full-fledged and competitive mode - with ranking and co-op. Here each user controls his own player, and it is impossible to make bounces (only hard tackling), but when filling the special scale all the players fall into the "excitement" - it allows you to use special techniques and effects of their position.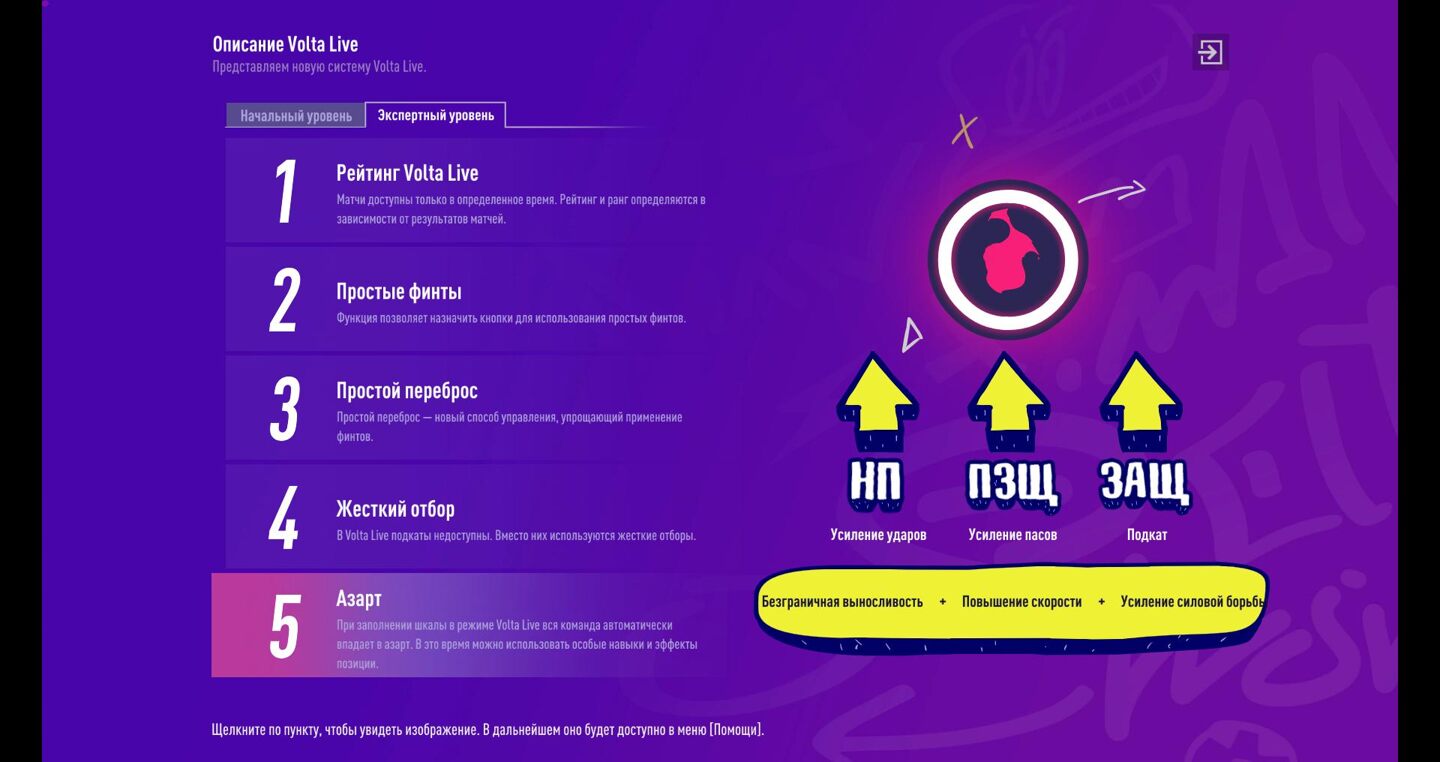 How does it play?
Ronaldo, Messi, Salah, Yashin, Maradona, Pele or Paolo Maldini all have high ratings, but what makes FIFA Online 4 unique is that they can be upgraded even further - and there is no ceiling of 99 points. That is, if you see here the same Messi with a rating of 112, do not be surprised! That's one of the main features of FIFA Online 4 - you can level up players almost ad infinitum.

It happens like this: you choose a base player you want to improve, and then you throw some other, more or less weaker players on the altar of his pumping. That is, in fact, you trade players from your collection for the chance to successfully improve the selected player. True, there is a chance that instead of improving, we will lower his rating, but as they say, he who doesn't take a chance, doesn't get a Messi with a rating of 112 to his team. All this allows you to put your favorite Kokorin (okay, just kidding) among the people, that is, among the best players in the world with a huge transfer value.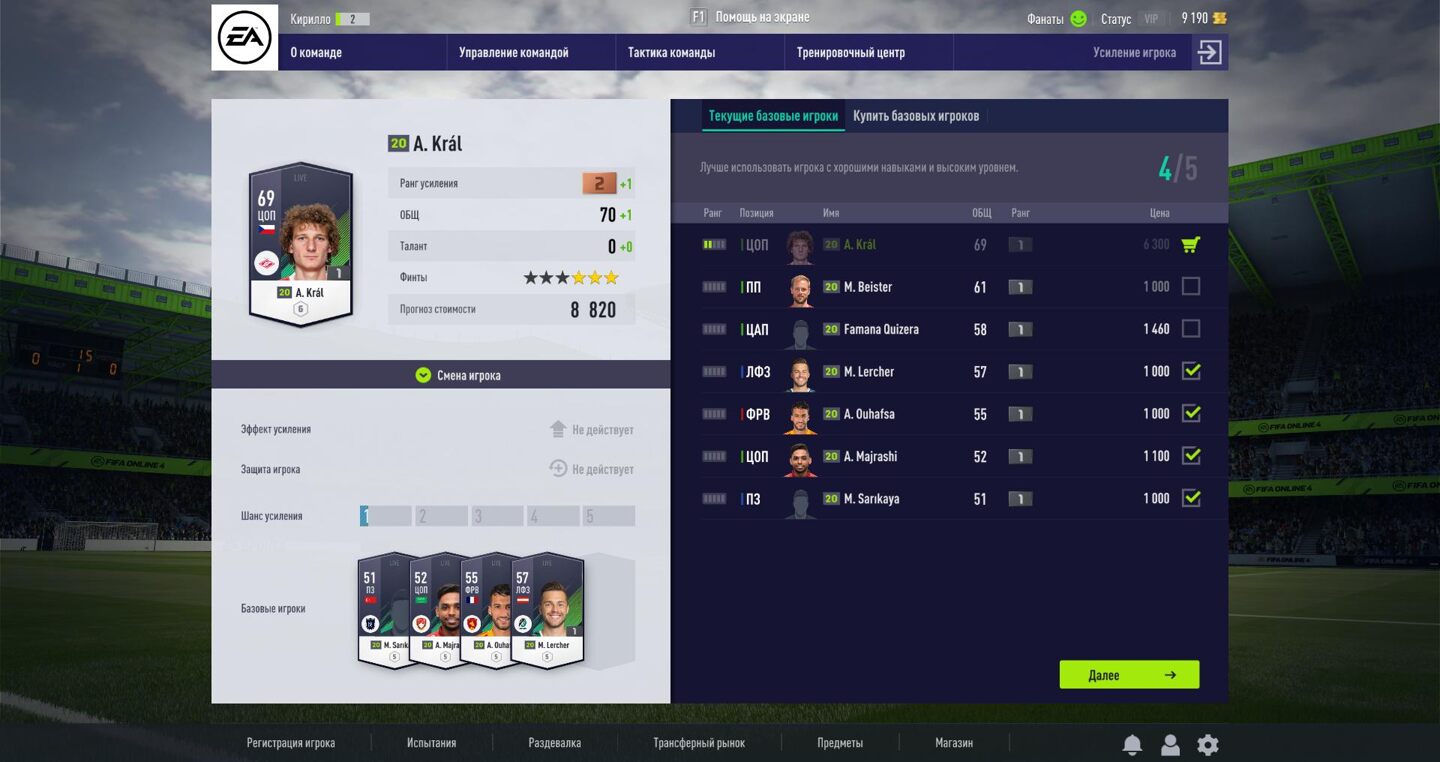 FIFA Online 4 seems to have complete freedom in forming your dream team. There's not even a "Matchmaking" indicator - in other words, you're free to pick up any players, no matter what country or club they're from. Instead there is an indicator "adaptation", but it is a different mechanics: winning the matches together, they gradually increase their "adaptation" level in the team and improve their characteristics. Yes, you can also pump players as you like. How can you not get your head around the prospects that open up? And yet, it's not quite so - you also have to think with your head.

After all, in addition to the rating each player has an indicator of his "prestige". And here the total sum of the "prestige" of the club should not go over 180 points. In fact, the game, which makes sense for a competitive MMO, limits the maximum strength of your "Dream Team", although it does not put direct restrictions on who will be a part of it.

Although how it doesn't... In fact, one way or another we hinted that it's better to pick players on the team wisely, trying, for example, if possible to gather players of one nation or from one club. For this you get special "boosts", which can, for example, give a bonus to the acceleration of all your players.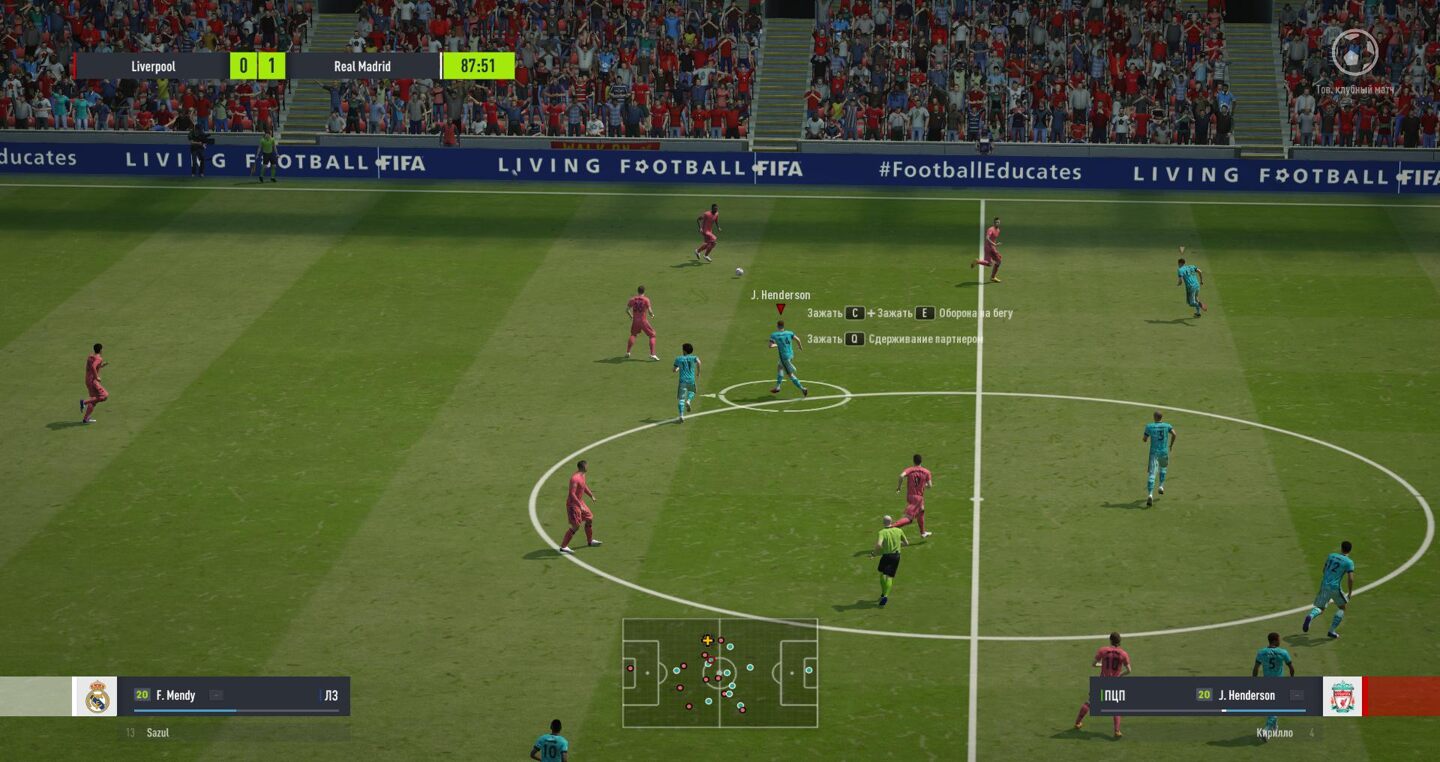 Conclusion
Overall, FIFA Online 4 leaves a pleasant impression. The game is beautiful, accessible, free, with a lot of modes, including modes for playing with friends, here you can feel yourself in the role of both coach and player. Here there are many restrictions on the pumping of players and the formation of a "dream team", and some problems with the Russian localization performed by Vasily Utkin and Dmitry Shnyakin, which were present in the beta version, were removed in the final version. So if you really like soccer, it would be a crime to miss this game.

June 2021