Vikings: War of Clans Game Review
Games about Vikings are loved by everyone - not only in Russia, where it is understandable (we remember Rurik and Vikings), but also in the world. One of the most notable on this theme was Vikings: War of Clans - it attracts not only fans of browser-based MMO, but in general fans of global strategies, where the struggle for dominance is not between individual heroes and armies, but the entire kingdoms, guilds, or here as in this case - the clans. What is the secret of "Vikings" success? Let's find out together.
About the economy and construction
At first glance Vikings: War of Clans is a fairly standard strategy casual format, which was first released on mobile devices, and now available on personal computers, both in a special client and directly in the browser. It is only immediately obvious that this is a beautiful, high quality and spectacular product, where already at the startup you are greeted with atmospheric Scandinavian music, tuning in the right way.

And immediately in a convenient format explain in detail the key aspects, helping you to make your first steps in the game. Naturally, as in all such projects, we must develop our estates, build farms to give food to feed the army, barracks, from which we will call this very army (or rather, different units), quarries, mines, sawmills, estates and so on. All this brings us resources.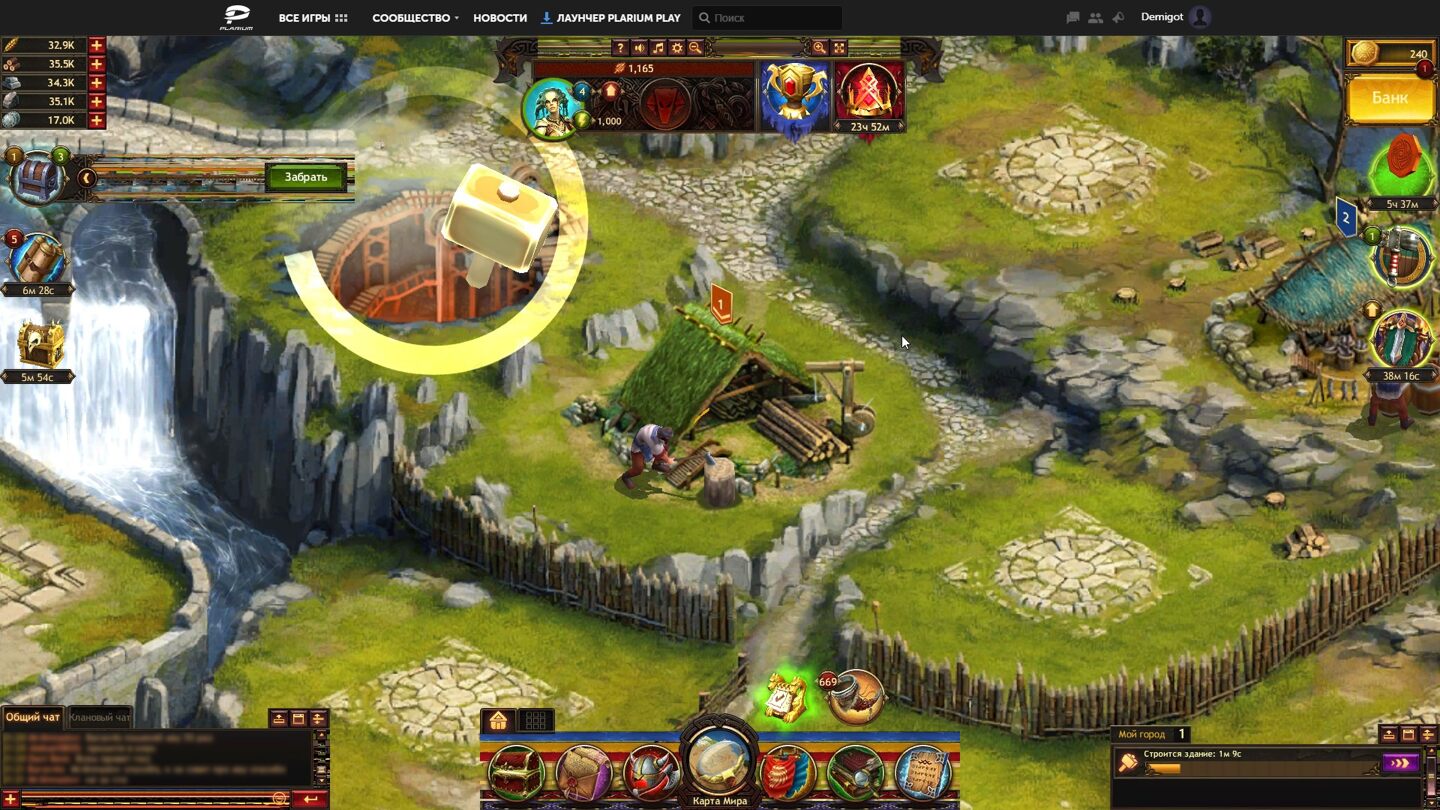 And the main building is the palace, the development of which determines the level of your city, as well as the possibility and availability of the construction of other buildings. To protect the settlement you need to build walls and watchtowers, to equip the troops for the campaigns we strengthen the Temple of Odin, to treat the wounded - the Infirmary.

In addition, you need to take care of your Hero (or Heroine). Yes, in Vikings: War of Clans you control not only impersonal archers, swordsmen and builders, but quite a specific character that you choose the name and appearance. He naturally evolves, gets new levels, you create equipment for him in the Forge (you will need silver and resources), improve his skills, increasing the effectiveness of construction, different types of production, damage troops and so on.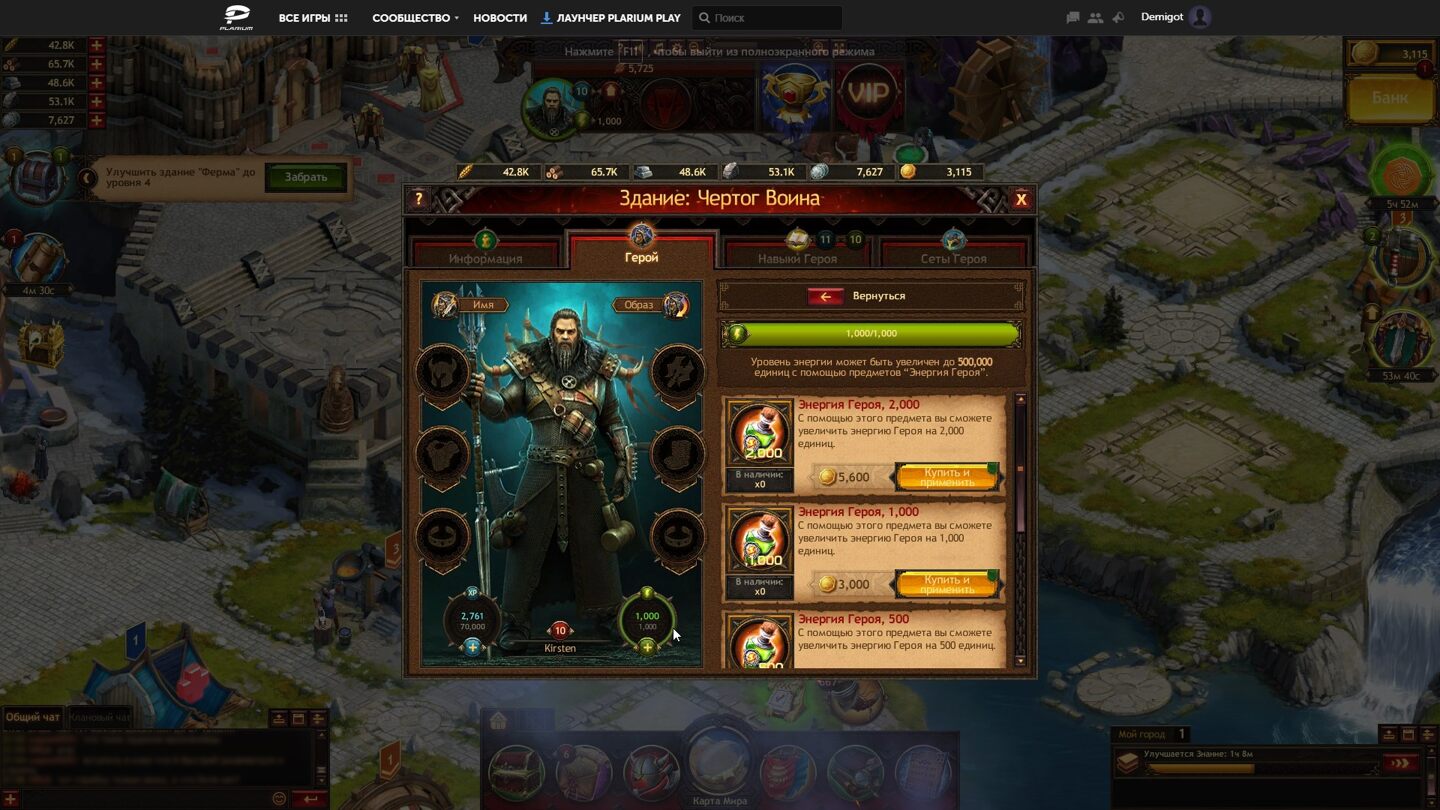 So, there is a Warrior's Chambers in the city, which gives a boost to the Hero's experience. Finally, it is very important to learn new knowledge (i.e. research), which makes life easier in all sorts of areas - economics, military affairs, and protagonist development. The Oracle is responsible for this in your settlement.
About Money
All of these buildings, as well as your army, of course, can and should be improved. As you level up the palace and study technology, new, more advanced buildings and troop types open up. And you have to develop them too - it just takes more time and money.

And we earn money for this in different ways. First of all, by completing numerous tasks, from simple ones like "build 4 quarries or 3 farms" to more intricate ones like "try a new sword", "go around possessions", "develop new combat tactics", "equip ships" and so on.

In fact, there's nothing difficult about them either - all the player has to do is click on the appropriate icons, wait for the goals to be achieved and get their perks. Missions are constantly updated, and you almost constantly collect rewards.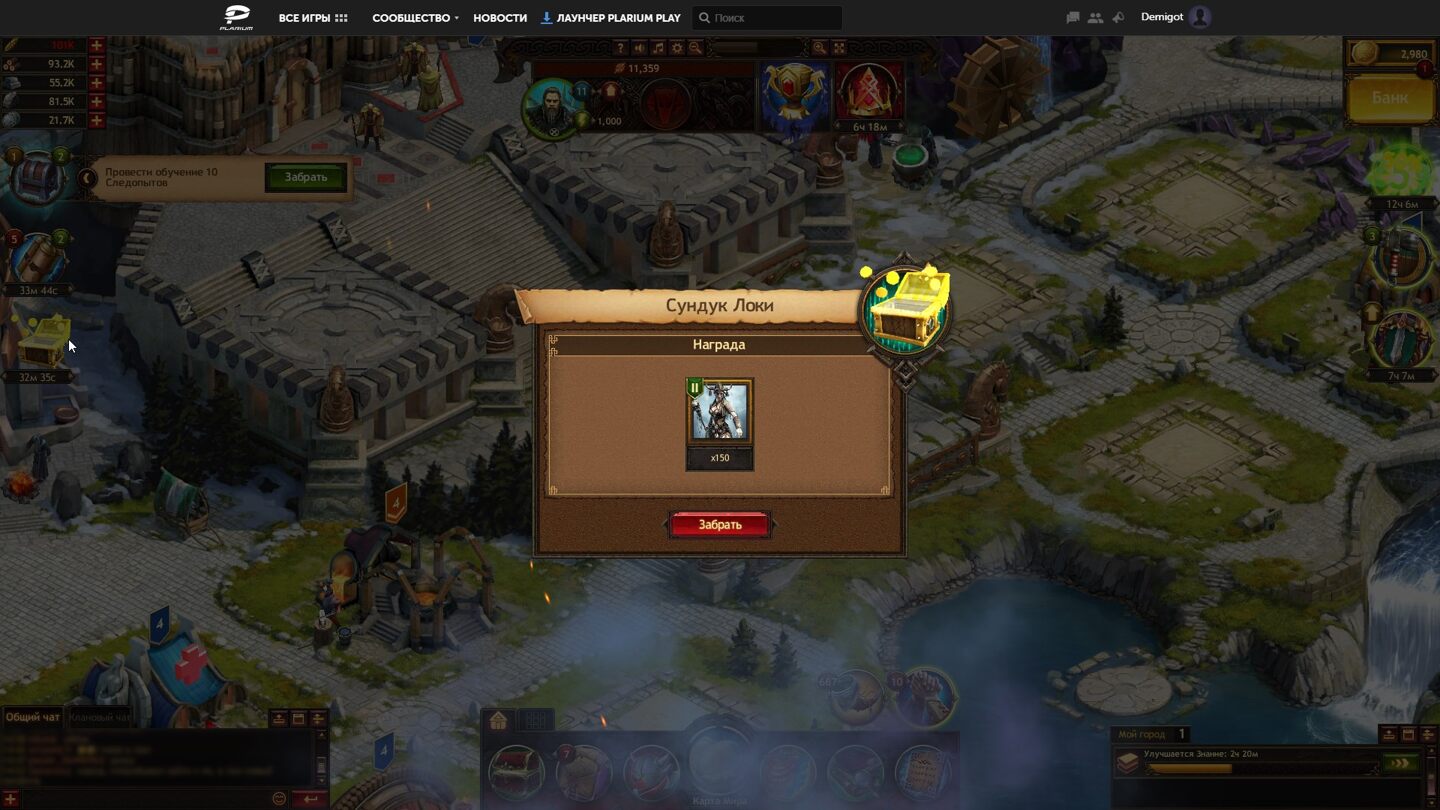 Of course, as in all such strategies, you can not wait until the next task is completed or the next sawmill is built/improved. Faster completion of the operation is allowed for in-game currency. If funds are not enough, you can go to the bank and buy them for cash. There are also sold different sets of items of equipment for the hero.

But in fact Vikings: War of Clans is different in that "donat" (ie, investing real money) is not as hard as in some other games. Many processes allow you to accelerate at all for free. And for that internal currency, which is quite realistic to earn in the "Vikings" themselves, you can also buy boosters that increase the rate of resource production, raise the effectiveness of the troops, etc., and even purchase VIP-statuses, with which we get even more opportunities to do everything, build and improve even faster.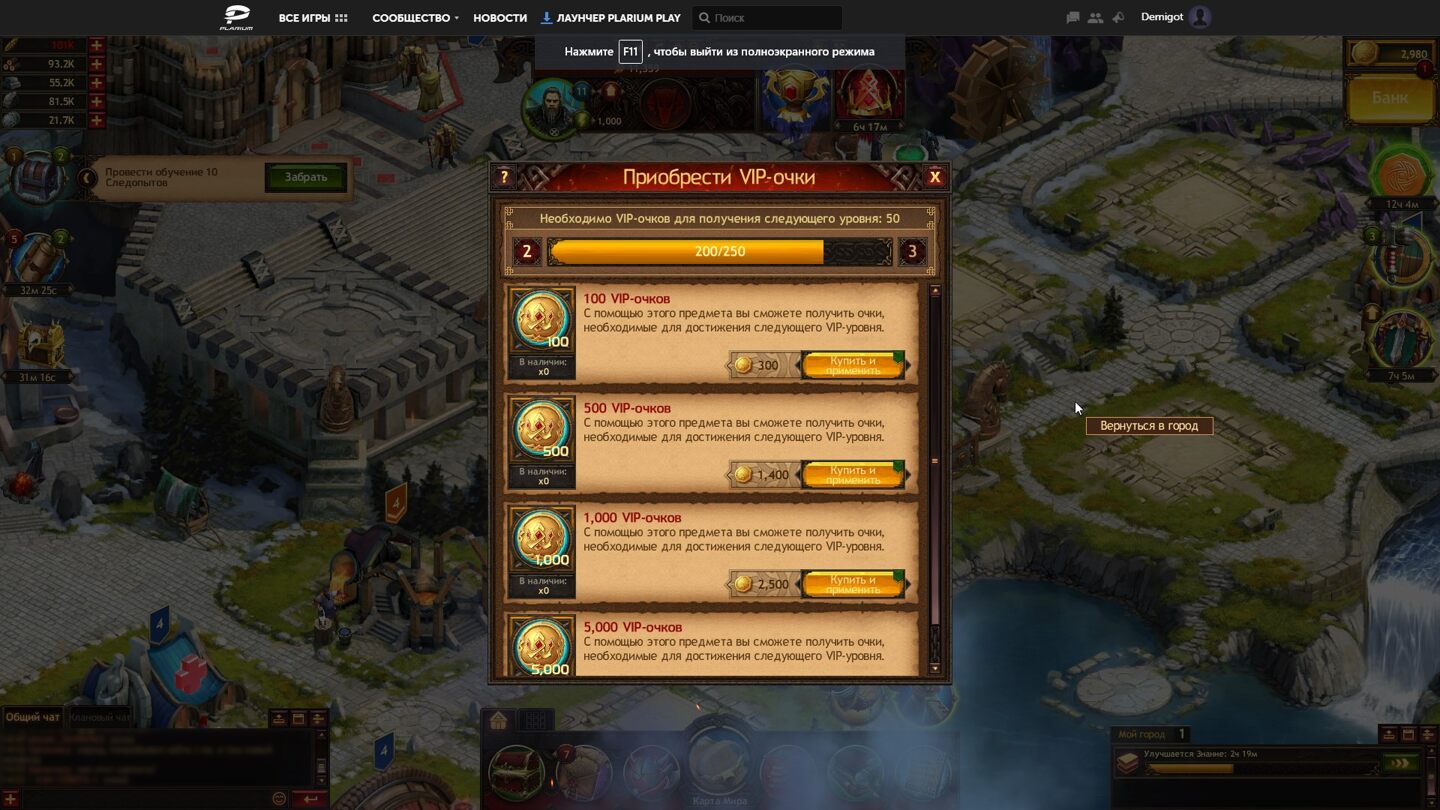 About battles
Separately, let's talk about the military-field part. Campaigns, attempts to capture another city, a resource source, attack neutral troops guarding something of value - all this is done on the world map, where you immediately see the level of your potential opponents. And in the same way, through the world map, other players can try to attack you. And this can happen even when you're not in the game itself. That's why it's important to improve your city's defenses and build a shelter - the better it is, the fewer resources you'll lose if you fail to defend your settlement.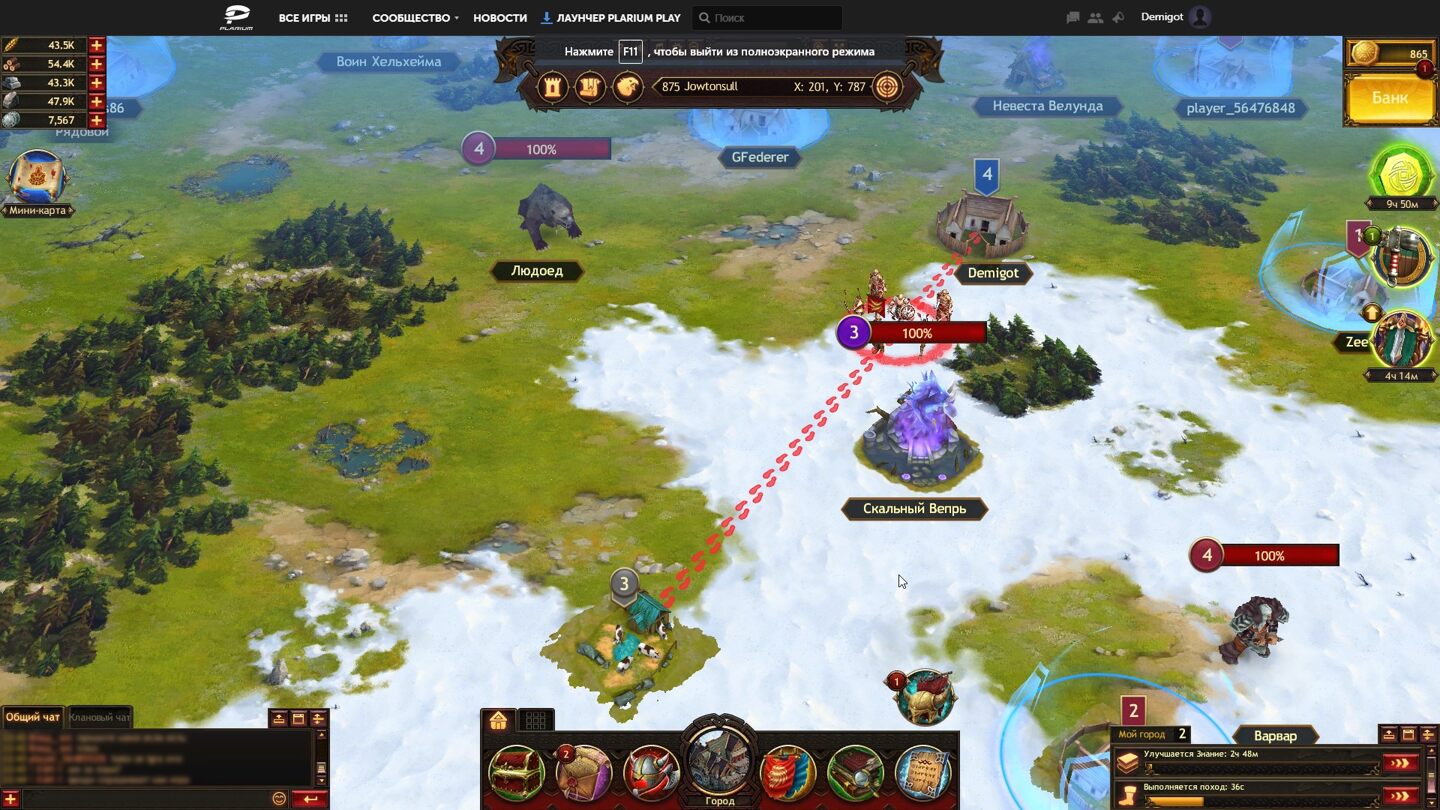 Success in both defense and attack depends largely on what kind of army you have assembled. Mercenaries, horsemen, trackers - these and other types of fighters relate to each other on a rock-paper-scissors basis. There are basic types of units - cavalry, infantry, siege units, archers, and assassins. So, for example, archers are more effective against infantry, but will have significant difficulty against cavalry. Assassins have an advantage against the latter, but of course they also have a couple of weaknesses.

All this must be taken into account when deciding who to attack. That is, it is important to correctly assess the characteristics of the enemy and choose tactics - to bet on defense or on attack. And, of course, it is better to take with you a Hero, which markedly increases the effectiveness of troops. Only again, depending on the chosen tactics, you need to equip the most appropriate outfit for the situation and improve it with stones, to learn the appropriate knowledge, so that the outcome of battles was the most favorable for you.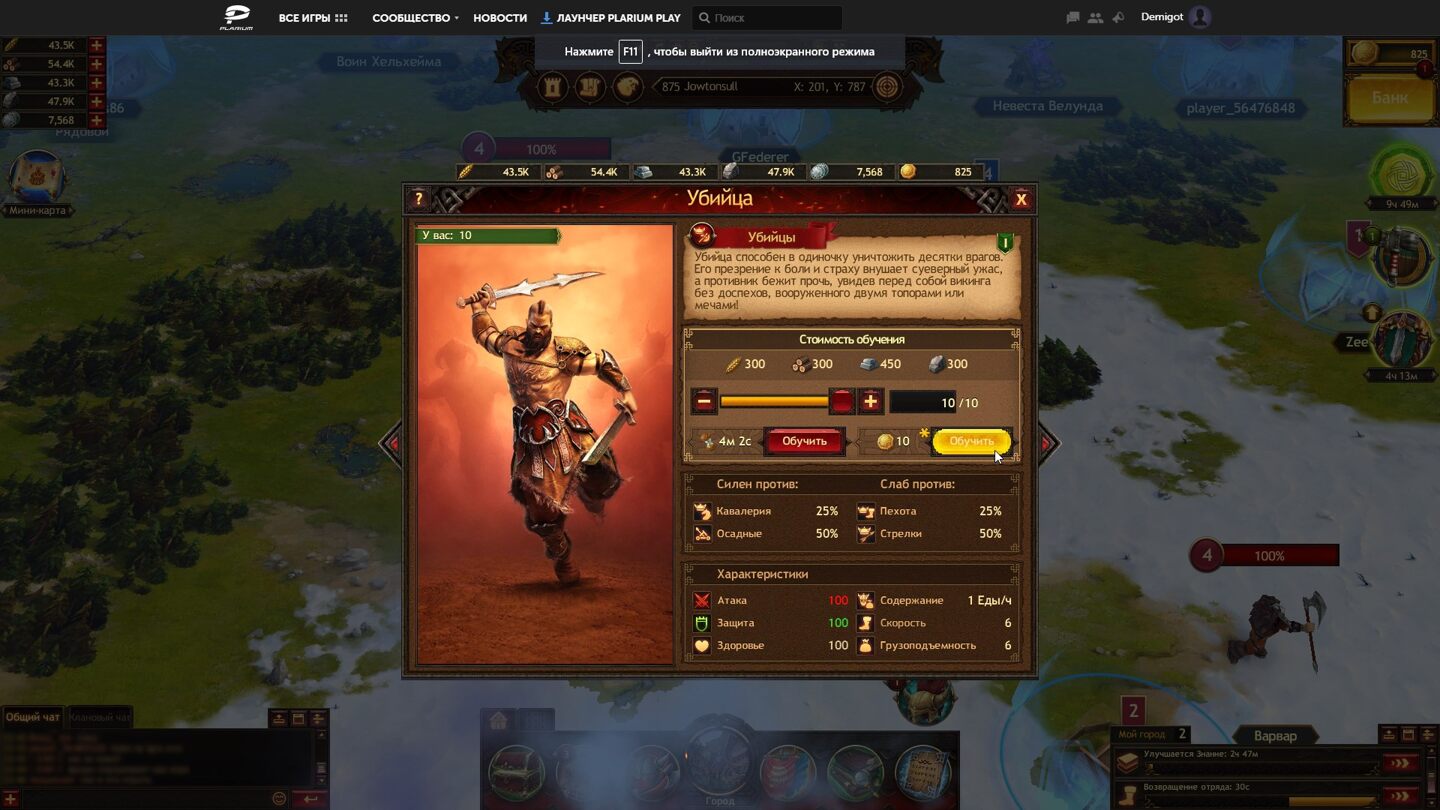 About clan battles
As we have said, all of the above (as well as personal ratings, and chat rooms for communication) in one way or another there are in many browser-based strategies. And if you play Vikings: War of Clans, as in the usual MMO of this plan, then someone may have a question - like, we've seen it, and what's so special?

But in fact the "Vikings" is all about teamwork - there's a reason why the title is titled "War of the Clans". You can play alone, but you can hardly achieve your global goals and capture the place of power - it's a special point that is located in the center of the map and looks like this: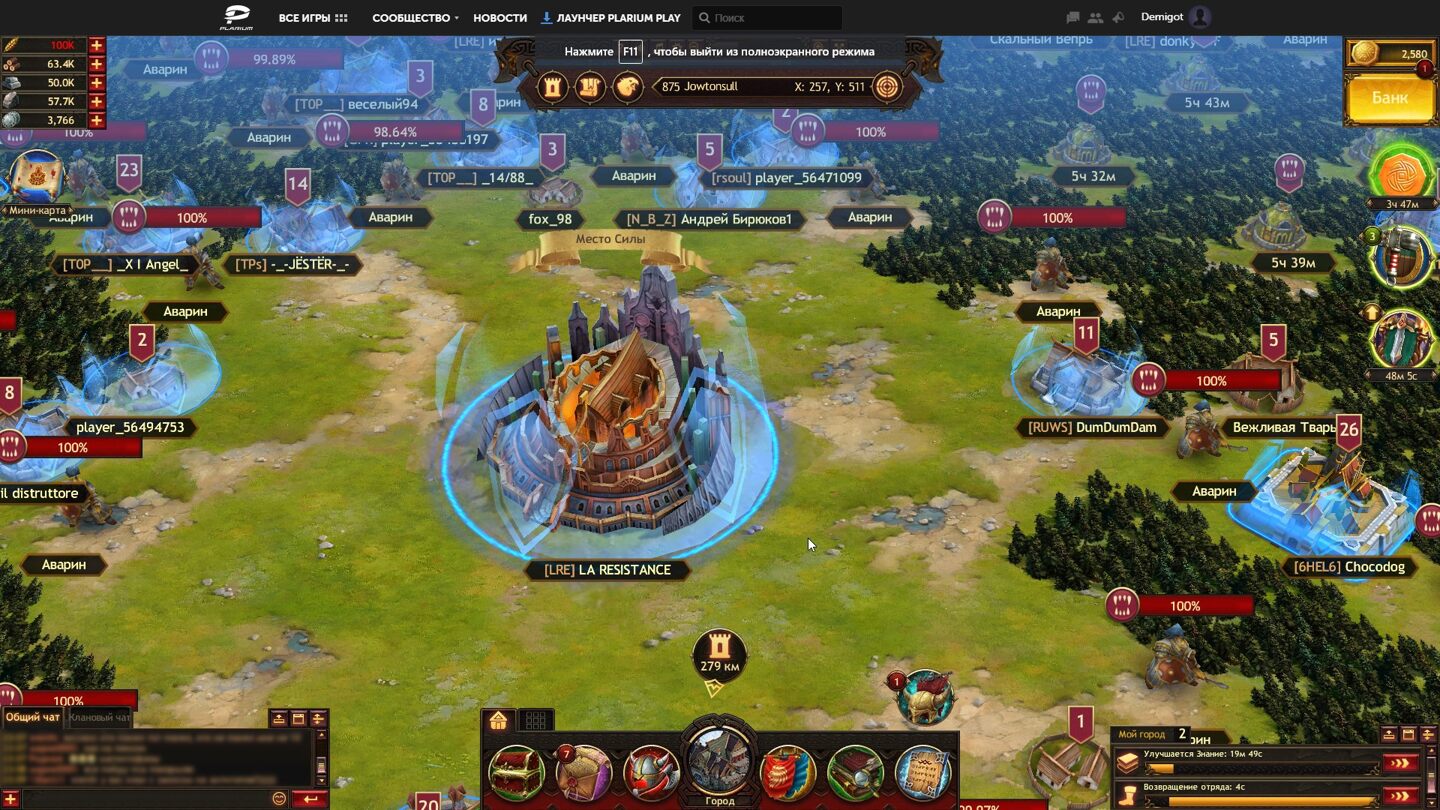 Moreover, it is not enough to capture this place - you also need to keep it. But if you join a clan (a permanent association of users) or create your own, then the game will open a second bottom. First, you get a lot of advantages. There will be access to common market, to joint storehouses and city-farms; you'll be able to request a caravan of resources from companions; they will accelerate the ongoing work in your settlement (but here you have to help your comrades, if you want to raise your status and loyalty in the clan). It will be possible to organize joint campaigns and assaults, when all members of the group act as a single army. And in the same way they will help in the defense of your city. Finally, your clan can build their own Citadel on the world map, where you will have even more benefits, including the ability to learn advanced knowledge.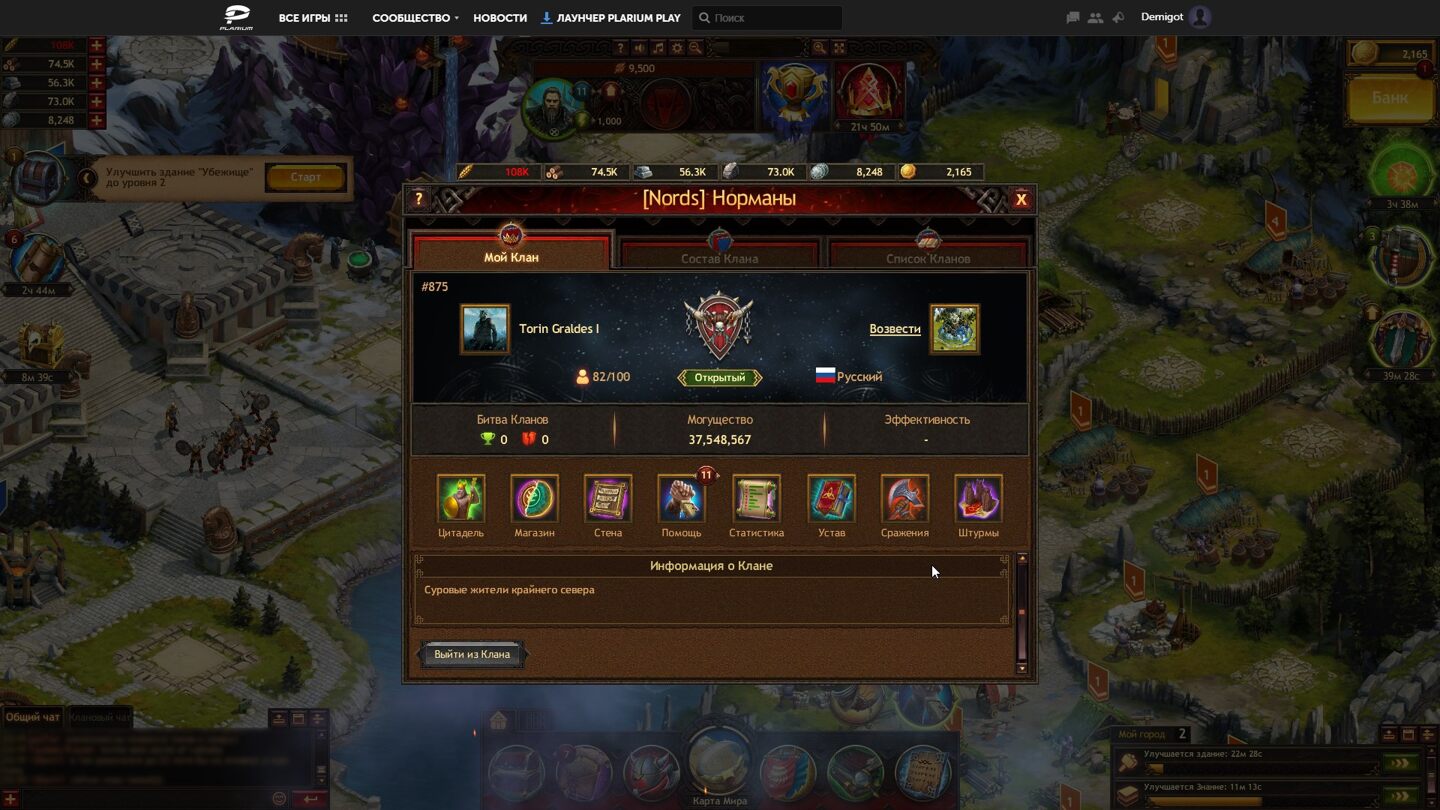 Secondly, you will be allowed to perform special tasks and participate in global competitions. One of the key ones - actually, the Battle of the Clans, when your faction is fighting with another, from another kingdom. Here we should clarify that all users in Vikings: War of Clans live on different servers, each of which is considered a separate kingdom. There are mechanics and items that allow you to "change citizenship", but you can do it only once at the initial stage of the game, so that after mastering the basics immediately and definitively determine who you are with.

So, in the Battle of the Clans you fight against people from another server, but not everyone, and against one particular faction. And there are also passing with a certain periodicity fights, in which brow push one "country" with another. Participants in the conflict in this case are selected automatically. After some time begins Battle Royals: Revenge, where there is an opportunity to win back or consolidate their victory. And, as assured by experienced players, in such cases, it is important to work together, you need to be able to agree, including between the leaders of the clans, and act as a team.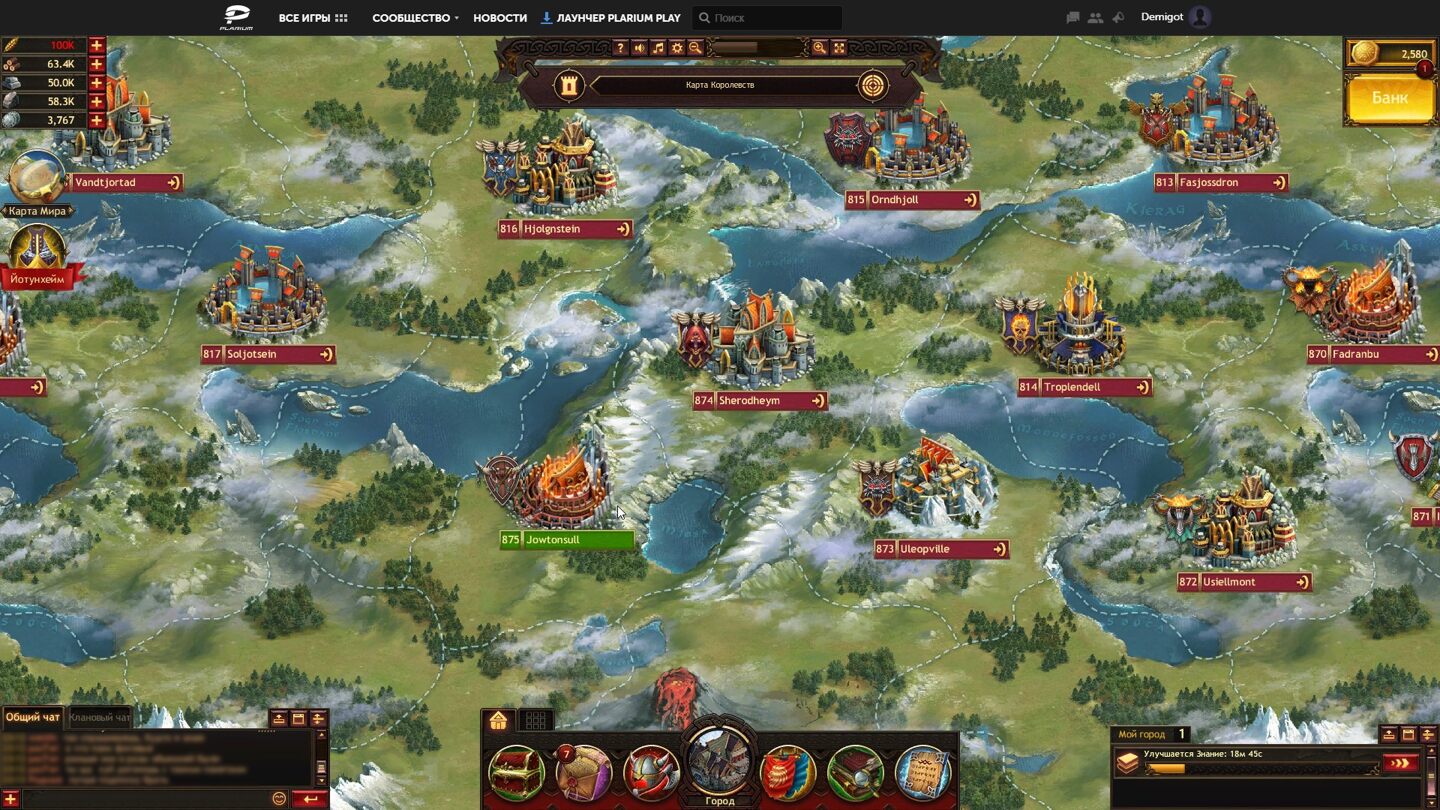 Accordingly, in the world of Vikings: War of Clans, politics and diplomacy are extremely important, which is carried out by the users themselves, including those who lead the associations of players. By the way, everyone can build a career in their clan, help others, increase their rating and eventually rise to the top. A lot depends on the faction leaders (konungs) - they choose the general strategy and line of conduct, agree on peace or war, distribute the roles within their team and so on. Here is another very important thing that is often clans (which is logical), and even the entire kingdoms are divided by nationality or language - and the result is a battle, let's say, "Russians vs Foreigners". This gives the game a particular poignancy and relevance - it also reflects modern global politics in some ways.

It is this clan global aspect that attracts many in Vikings: War of Clans. A project that at first appears to be just another browser for killing time, eventually turns into something more, into a true love and passion. Because these large-scale battles have a lot of interesting subtleties, real-life diplomacy and strategy. Many people play for years, quarrel and reconcile, join clans that become a family for them. Or even become friends and get to know those against whom they fight - Vikings can unite everyone. Not surprisingly, Vikings: War of Clans feels great and moves forward, regularly receiving fresh updates. For example, just recently it became possible to explore the depths of Helheim by sending a special character Warrior.
Conclusion
As you can see, Vikings: War of Clans is not just a browser strategy, but a whole world of intrigue, treachery, global battles and politics. Yes, many are trying to do something like that, but here this aspect is worked out really cool. Do not believe me? Try it yourself.

Zarium, October 2020