My Little Farmies Game Review
We all remember the surge in popularity of games in the "farm" genre, which almost all housewives and half of the office workers were fond of. Even now such projects are more than in demand. Many of them created by German developers - perhaps affected by the peculiarities of their mentality, a passion for order, organization and entrepreneurship. One of the most notable "farms" from Germany - conditionally free My Little Farmies, which is known in Russia since about 2013, but still remains afloat and attracts new players. Why? We tell you in our review.
About the basics of gameplay
Like all games in this genre, My Little Farmies is a construction and economic simulator, where we have to do our own farming - to pave roads, plant, sow, grow, irrigate, then collect crops, vegetables, fruits, breed animals, organize production, make various goods and sell them.

Only the farm here is medieval, which affects the entourage, the picture, the atmosphere, and even the names - for example, the usual guilds of players in My Little Farmies are called in medieval style, "ganzas".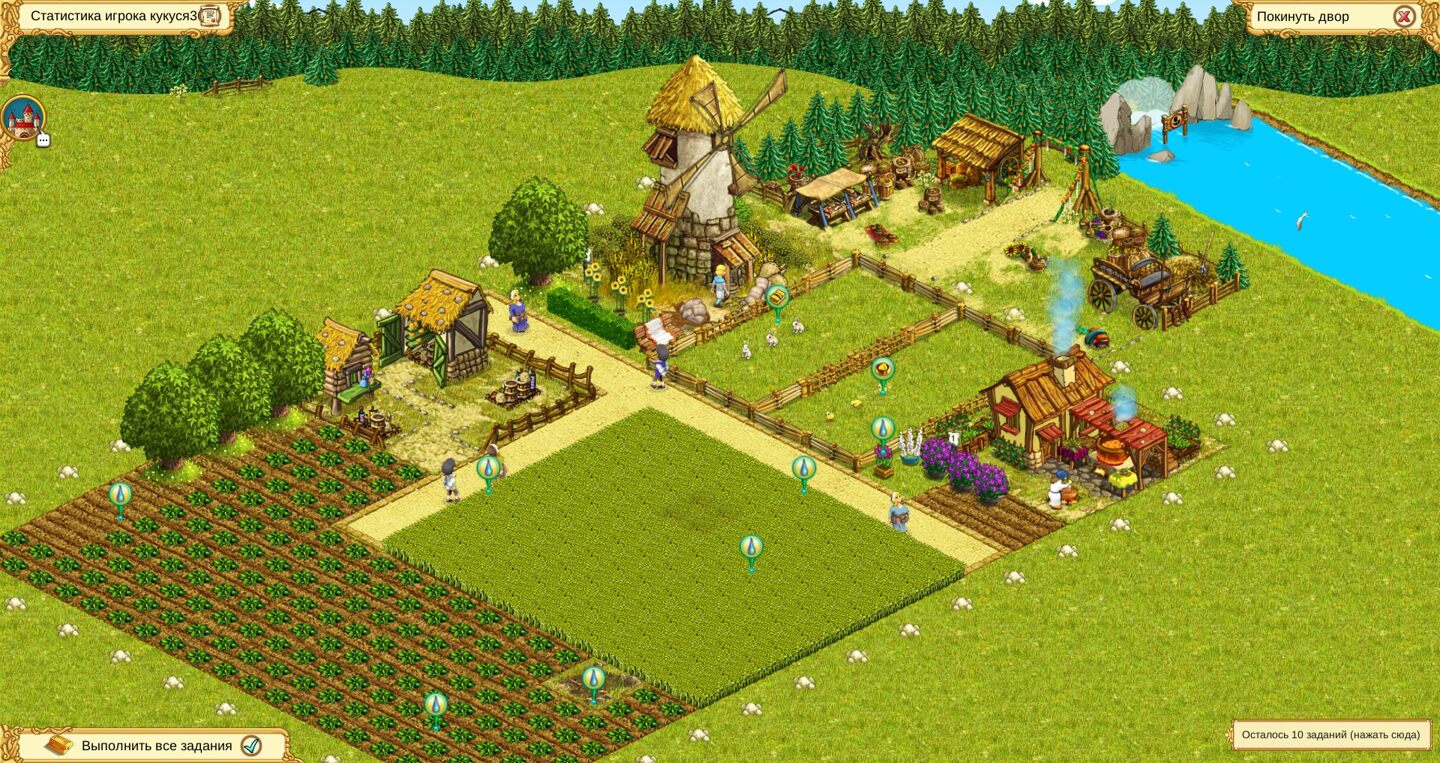 With the proceeds, namely thalers, we can expand buildings (eg, barn capacity), buy new products, buildings and facilities - we do it in the store, where we buy cards for these or other items, and then use them directly on the farm. It is worth investing in the expansion of the boundaries of its possessions to gradually turn it into a whole village.

It is also possible and necessary to decorate the area with different decorative trees, benches, paths and so on - in the trade menu for this whole section.

But the main thing - it is, of course, to take care of customers who are interested in your products. Even the name of the game translates as "My Little Farmers," emphasizing that people and their needs come first. On your property, you'll find men and women in medieval attire scurrying up and down the paths, wanting things - if you click on the cloud over their heads, you'll see that someone is hungry for potatoes, someone needs plums, or four sacks of cane sugar are urgently needed.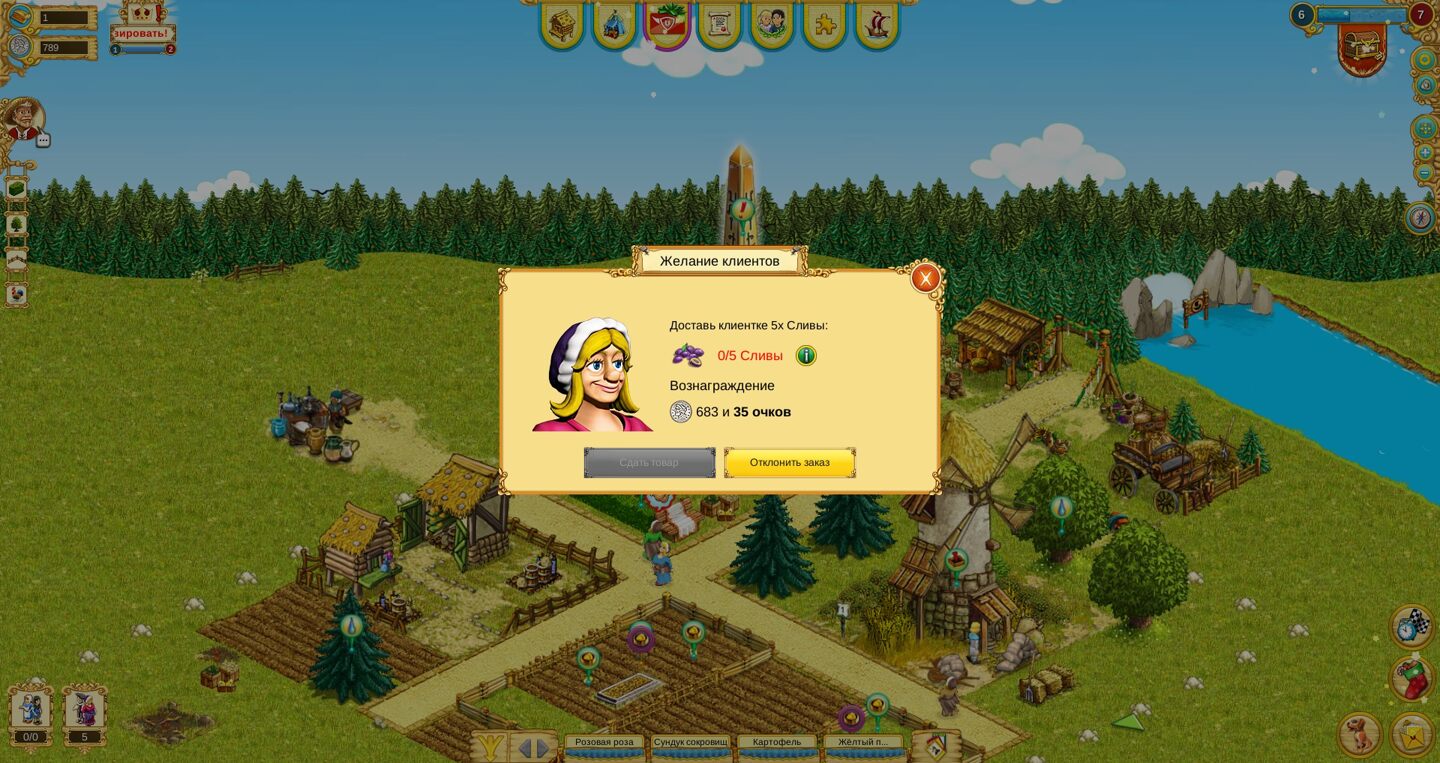 Constantly throws up tasks of the same series and our virtual assistant, the Russian version of the name "Mitya" - then his new pen for the animals to build, and then run it three chickens, then plant three decorative Christmas trees, and everything in the same spirit. Simple, but the execution of such quests regularly brings money and experience. This is in addition to the fact that the game itself awards you prizes and bonuses each time you enter. Or parts of rare cards items, goods and buildings - at once and completely they can only be bought for cash, which are translated into gold bars. The second option - that's how to gradually assemble and get free, putting the pieces of cards together like a puzzle. By the way, on the farm there is a special farm obelisk, which once an hour again brings one or another reward.

Successful completion of tasks and orders from customers, as well as some other actions like harvesting, brings experience points and allows you to get new levels - and each of them opens new cards (and hence, new opportunities) which you will then find in the game.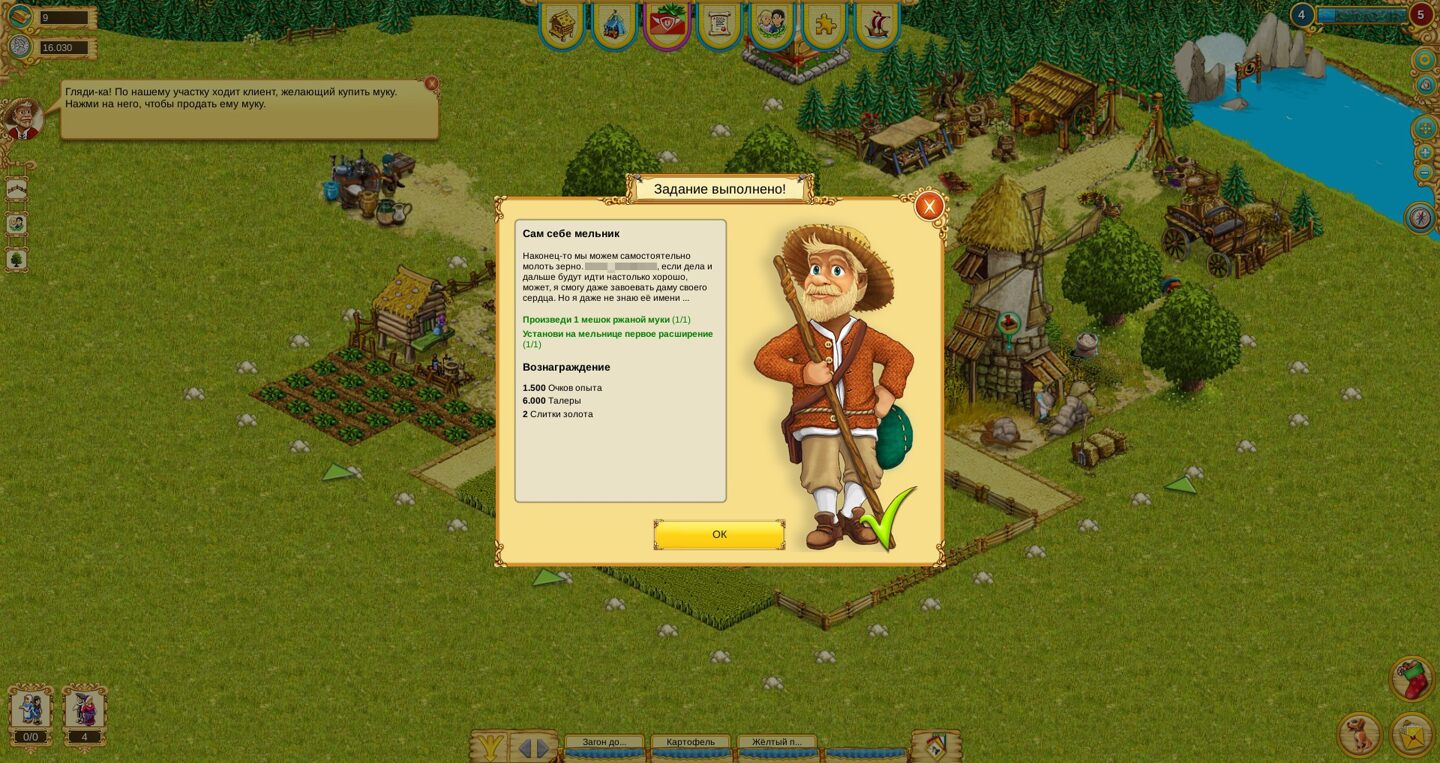 About the unique gameplay features
My Little Farmies is notable for its scale and detailed approach to the way both the economic model and the production chain are implemented here. Here you can, for example, not only harvest crops, but also process them, grinding grain into flour in a mill to bake bread, making plums for juice, and so on. This is important because such "advanced" products open up more possibilities and bring in more profits.

There are more than 15 processing buildings, including not only a mill, but also a brewery (the game is German after all!), a slaughterhouse, a weaving factory, and even a liquor factory. It's not enough to build a pen, buy a rabbit or chicken card, and put the animals in it. You also have to feed them, put a drinker on them. It's not enough to have a pig - to start selling smoked pork ham to customers, you have to take care of the piglets, wait for them to grow, then send them to the slaughterhouse, get their meat, process it into the actual ham, and deliver it to the market stall.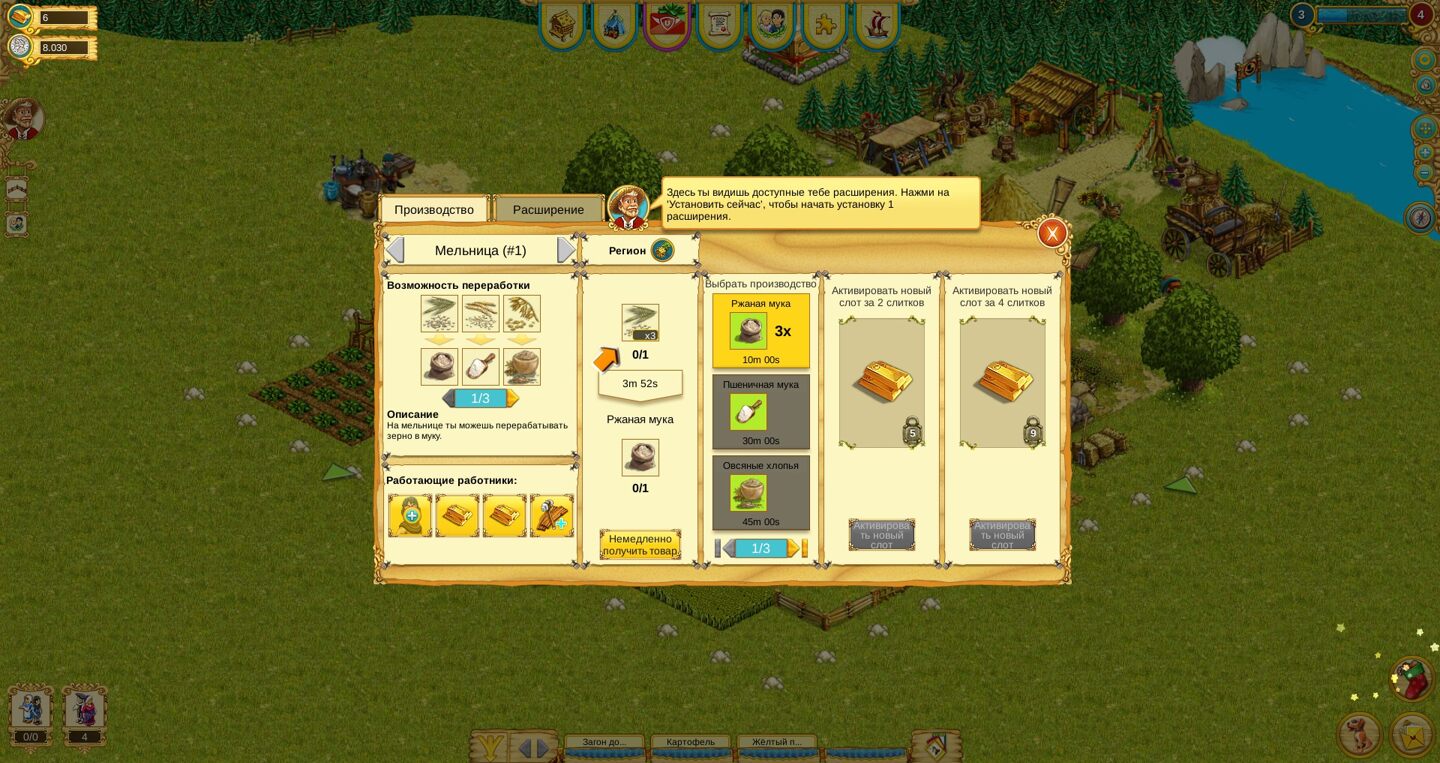 By the way, the animals in My Little Farmies are also given special attention. You have to take care of them, they all have their own needs, peculiarities, and even their own moods. Piglets, as we have already said, after reaching a certain age, it is better to send them to the slaughterhouse, but, for example, chickens and cows can be kept on the farm for a long time, because they provide a stable supply of eggs, butter, sour cream, which always sell well.

Moreover, it is not enough just to have tents of traders on the farm - in order for them to really buy your goods, you need to offer what they need, and exhibit adequate prices
Another important point - the need to create conditions for farm workers, which after some time you will be hired - it can be apprentices, masters, journeymen or even tougher specialists, all different quality and speed of tasks. So, they need a place to live and not only that - decorative objects come in handy here. All sorts of trees, benches and paths affect the mood of both employees and customers.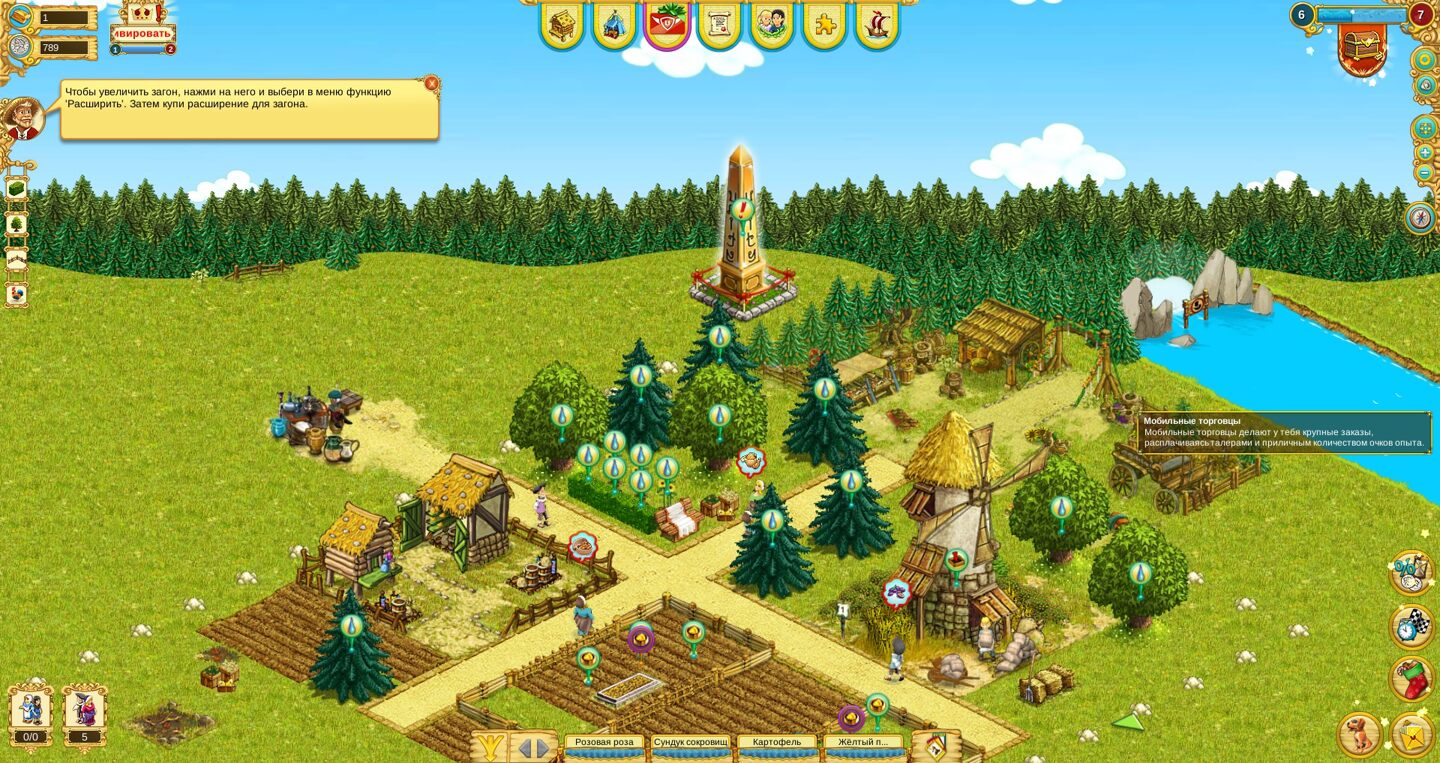 About Multiplayer and Donate
Finally, My Little Farmies has a serious focus on social interaction - here you can trade with other players by building a marketplace, making and inviting friends, and then visiting their farms and helping them by completing their tasks, watering their beds, and so on. This will bring rewards for both them and you. And also, as we said, users can join together in so-called "ganzas".

Whether you farm alone or in a community, you can always complete achievements and earn ranking points, medals, and Achievements by competing against other players in seven dozen categories. And in the process, you'll earn different ranks. There are seven in total, from Specialist to Legend.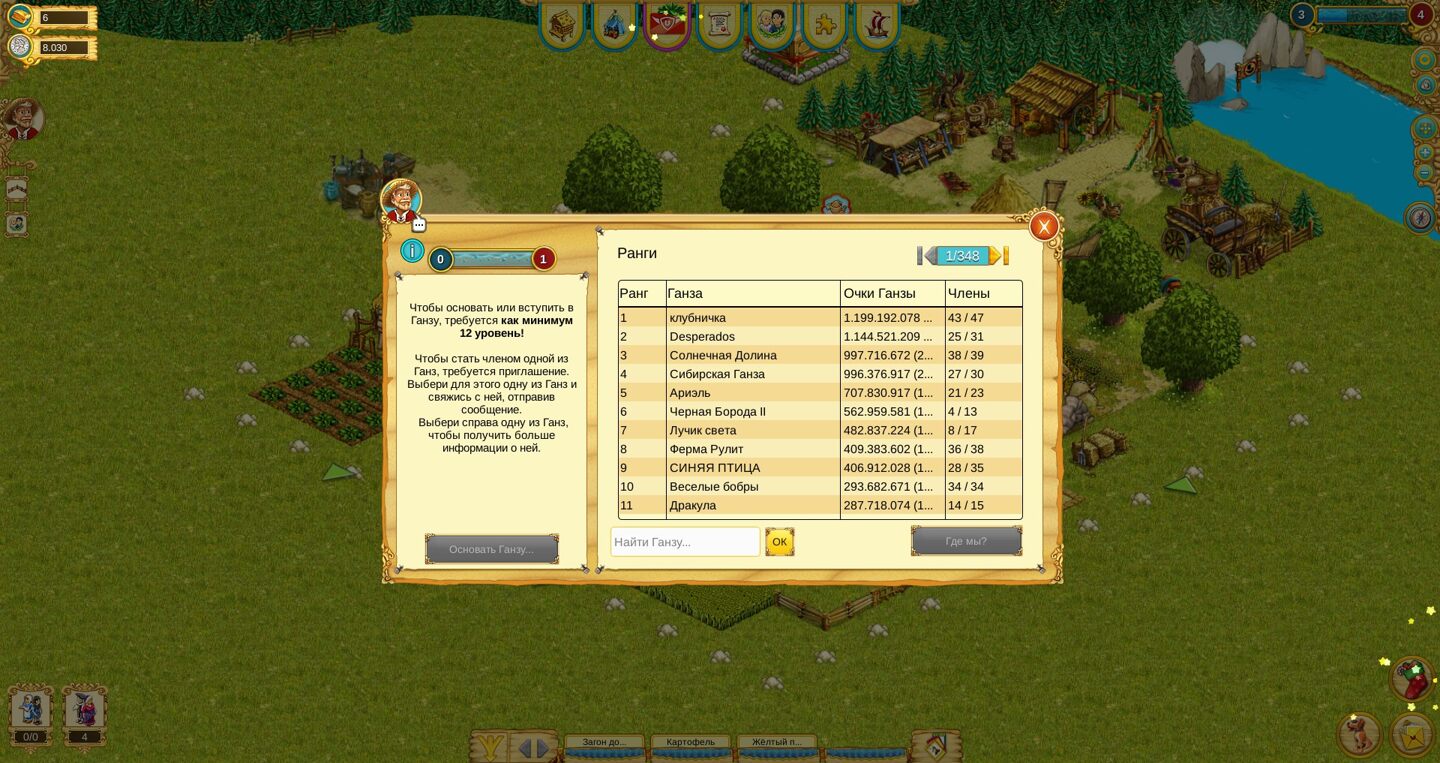 Naturally, many of those who achieve the highest ratings invest real money in the game. Like most browser-based free-to-play MMOs, My Little Farmies has an in-game store with boosters and gold bars, as well as the ability to get (for your own money, of course!) premium status, which gives certain benefits - for example, allowing you to finish construction instantly. But first, many things like rare cards and the same gold bars, you can get, just by giving your farm enough time. Secondly, why not pay a little for a good game? Also here the authors also approached creatively: for example, to increase your premium status, which gives more benefits, you need not only sometimes open your wallet, but also... no less than that... to build and develop your own castle in the palace park.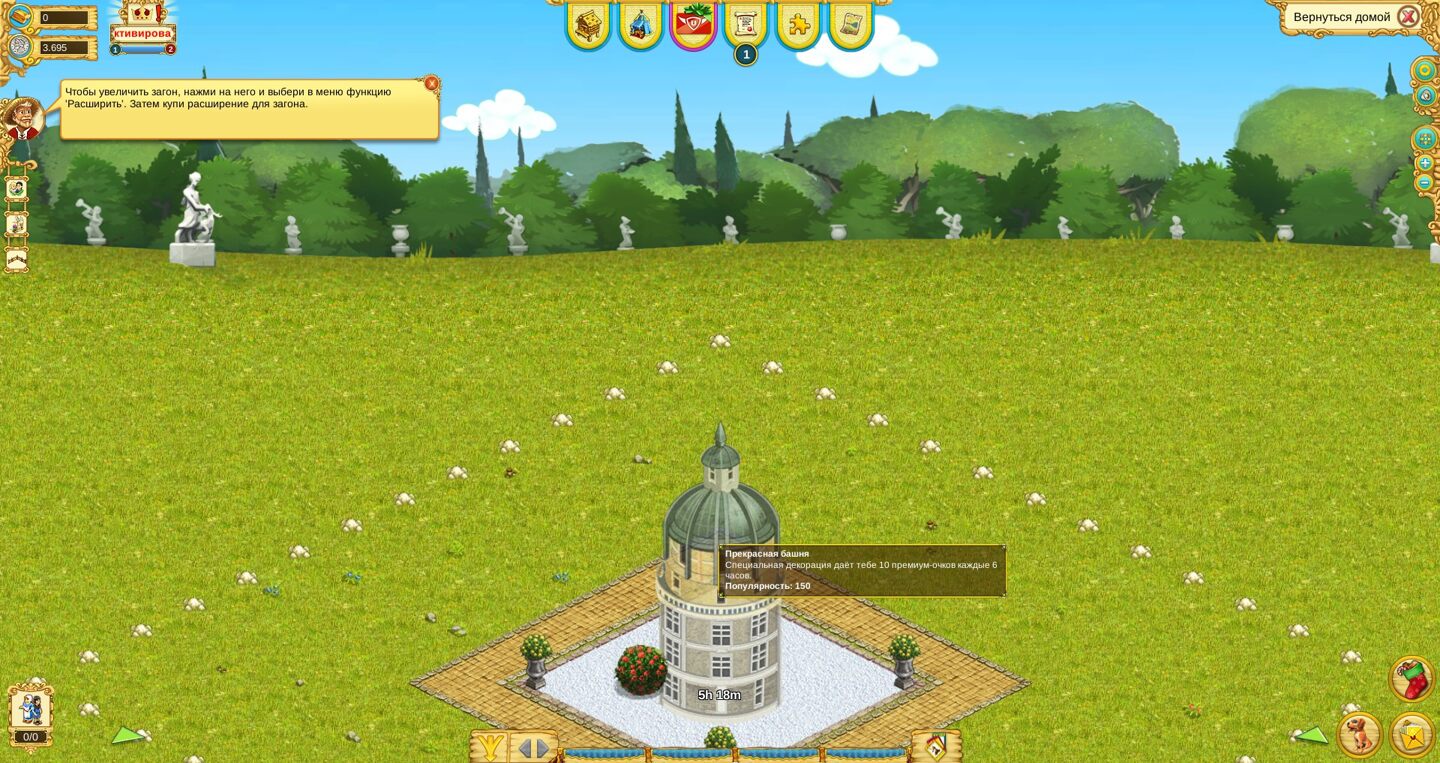 Conclusion
My Little Farmies is a good example of a browser-based "farm", as they say, with tradition, which combines depth and meticulousness in the organization of production chains, and at the same time accessibility, bright pictures, atmospheric medieval setting, and a clear focus on social interaction between players, who can grow chickens together and sell goods. In addition, the authors, although not making anything fundamentally new to the genre, but still rejoice in a few interesting findings like building your own castle. In general, we strongly recommend all virtual farmers to get acquainted with My Little Farmies.

March 2021